Whether you're shopping in your local Sephora store or even in a supermarket, there's a good chance that you'll see shelves upon shelves stocked with various kinds of makeup. Even with all the brands currently available, new brands are popping all the time!
If you're a makeup enthusiast or simply see a gap in the market that's just waiting to be filled, you may be wondering how to start your own adventure in cosmetics sales working as your own boss. Though the path to success can vary widely from entrepreneur to entrepreneur, read on to discover our step-by-step plan to guide you in the right direction!
1. Select your products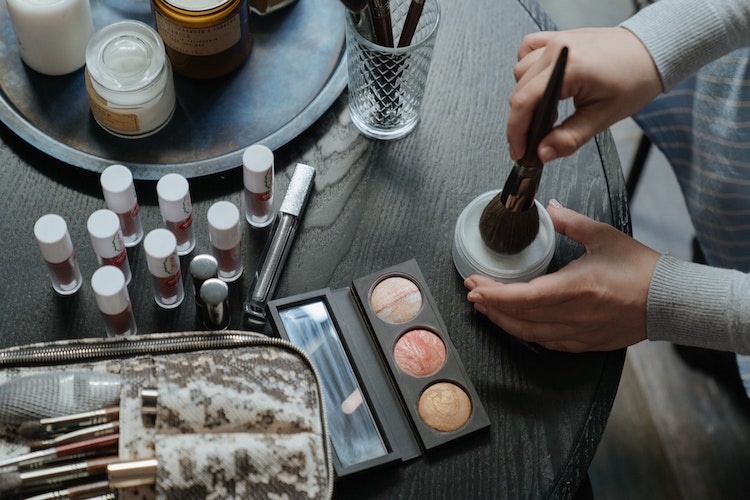 First things first: you'll need to decide what kinds of products you'd like to offer. Because there's already a plethora of cosmetic brands out there, you'll need to find a way to make your beauty business stand out from the crowd. The items you sell will ideally offer consumers something different from what's currently available.
Although there are many different makeup products from which to choose, here are some of the general categories of goods that exist.
Standard makeup:

Often what many people think of when they hear the word "makeup," these traditional products have varying costs and can include everything from foundation, blush, and mascara to lipstick, eyeshadow, bronzer, and more. With each type of product, you'll then have many different variations. For example, you might be set on focusing on eyeliner, but this can involve pencil, liquid, felt-tip, or gel eyeliner versions.

Body makeup:

This type is generally used to even out skin tone or hide blemishes on any part of the body other than the face. It functions just like facial products like concealer or foundation.

Luxury makeup:

Involving any kind of items you might have in the first category, luxury makeup is created using ingredients of the highest quality possible. Cosmetics in this category usually come with a much higher price tag. Typical customers for these types of products might be makeup artists, who tend to have a greater amount of knowledge concerning cosmetic items in general and understand the benefits of using beauty products with top-of-the-line ingredients.

All-natural makeup:

Similar to luxury makeup, this category can include any standard products. The difference, however, is that all-natural makeup targets the growing number of consumers concerned about using harmful chemicals on their skin and therefore usually features goods crafts using only clean ingredients.

False lashes:

A trending beauty item that's exploded in popularity in recent years, false lashes help users' eyes pop in a way that goes beyond what ordinary mascara is generally able to achieve. Although this type of product doesn't require the same level of development that you'd need to do for other goods, keep in mind that you'll have to make sure that the adhesive you sell with your false lashes in order for them to stick to users' eyelids is safe to put on the skin.

Makeup accessories:

If you'd like to offer something other than makeup itself, you might consider selling related tools and accessories. This can include, for instance, things used to apply cosmetic products, such as brushes, eyelash curlers, sharpeners for eye or lip pencils, mirrors, cosmetic bags, etc.
Already have a good idea of what kind of products you'd like to offer? Or perhaps you're just beginning the brainstorming process? Either way, it's advantageous to take your time with this step to be certain that you're passionate about the products you have in mind but also that there's likely to be significant demand for these items.
Research beauty trends
A great strategy for any aspiring makeup entrepreneur is to research the current trends happening in the beauty industry. Learn what's trending in the exciting world of makeup by following different brands and influencers on social networks and checking out blogs and other beauty-related publications. You can also utilize Google Trends to check to see if interest in your ideas for cosmetic products appears to be on the rise.
Remember that although it's helpful to have a decent understanding of current beauty trends, you won't want to base your entire business on a single trend. Afterall, what's popular one day can soon change just months down the road!
Determine your niche
When deciding what products to sell, it's also very important to find a unique group of shoppers to target. It's impossible to make all consumers everywhere happy, so narrowing your focus to a specific group will give you the greatest chance of success.
Market segmentation can be done in various ways. For instance, you might think about using benefit segments, which involve creating products that would assist shoppers with a specific need. Demographic segments, on the other hand, entail targeting groups of people who share similar religions, ages, incomes, ethnicities, etc.
A third option is to avail of occasion segments, which means designing goods that consumers would purchase for specific occasions or events, like weddings. You can alternatively aim to appeal to people who have a particular way of living life, known as lifestyle segments, like creating vegan-friendly cosmetic products.
2. Choose how you'll obtain your products
When you decide to start an ecommerce business involving makeup, note that product production can be tricky, depending on the strategy you choose. The best method for sourcing goods will depend on how complex your products are and the skills, time, and financial resources you have at your disposal.
Let's take a look at some of the most common options for obtaining cosmetics for a makeup business!
Make your own products
If your preferred plan of action for your makeup brand is to start small and launch your business from home, know that it's completely possible to craft your products yourself. In this case, you'll just need to keep in mind that getting your formulations right will probably require some trial and error.
Furthermore, you'll definitely want to be up to date on local laws concerning the manufacturing of cosmetic goods. Countries often have strict regulations in place for how these products are produced, even if it's being done from the comfort of your home.
As you perfect your formulations, keep careful documentation of the steps you take to make your products. This will make it even easier if you opt to work with a manufacturer later on as your business grows.
Sell private label products
When a company sells private label goods, those items are manufactured by a third party but sold under the company's branding. If you opt for this strategy, be aware that your products' formulations may be identical or nearly identical to those of other brands' products. The main difference will be in how the items are packaged.
This method is therefore best if your unique value proposition involves your branding or the concept behind your business rather than your products themselves. Private label manufacturing is also a great way to speed up the process of launching your business, as you won't need to engage in the same level of testing and experimentation that you would if you were creating totally new products.
Work with a manufacturer
If you'd like to sell uniquely formulated makeup but don't want to make your products yourself, hiring an external manufacturer to create them for you may be the ideal solution. Producing cosmetics can be a lengthy process, and working with a manufacturer allows you to focus on other aspects of your business.
When researching companies to manufacture your products, don't be afraid to reach out to multiple manufacturers and ask for sample goods to see if their quality meets your standards. Check to see how much they charge for their creations as well as their shipping costs. Your manufacturer should respond to any inquiries in a timely manner and be willing to be flexible and work with you to bring the products you envision to life. Before signing any contracts with a company, don't forget to read the fine print!
The icing on the cake will be if you can find an amazing manufacturer in your local area.This will make it possible for you to visit the facility regularly and start to build strong relationships with the people working there.
Curate other brands' products
Your makeup business doesn't necessarily need to involve selling your own creations. You can also opt to purchase wholesale cosmetics from other brands and resell your carefully curated collection of makeup products for a profit.
As with any of the options mentioned in this step, finding the right niche market will be essential to your success.Consider what theme(s) you'd like to have your products revolve around when selecting what goods to sell. For example, perhaps you'd like to offer cruelty-free makeup or creations that address specific skin concerns. As brands' prices can widely vary, take these variable costs into account when planning your budget.
3. Develop your makeup brand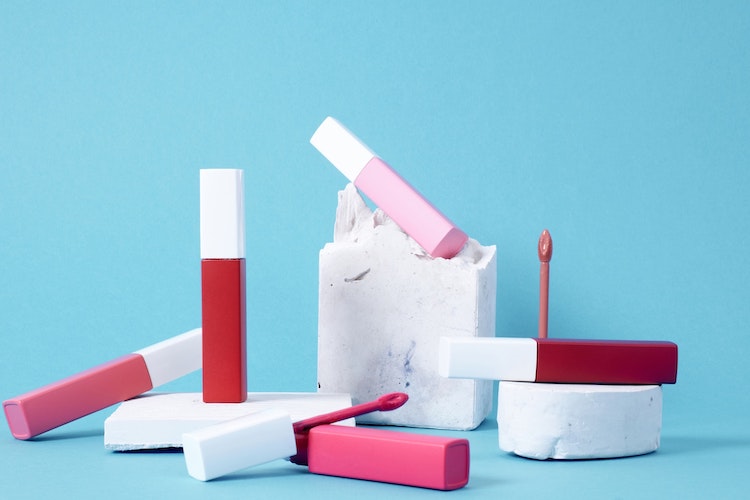 Now that you have a general idea of the kind of makeup you'd like to sell and the consumers you hope to attract, you'll want to start developing your brand. Your brand is what will help to set you apart from other companies and entice shoppers to engage with your business and buy your products.
Developing your brand entails determining what your business stands for, your values, and what ideas you want to communicate to your target market. The messages you convey on your site, social media, and even your product packaging should be consistent and accurately reflect your brand's ideals.
As with any industry focused on image, how you decide to brand your business is very important and crucial to your success. Know that this is even more so the case if your venture involves private label products!
When building your brand, you'll also need to take care of its visual representation and aesthetic. Choose a color palette, create a logo, select the fonts that best suit your brand image, and use these elements consistently to help consumers be able to better identify your cosmetic business.
4. Work on your product line
After you have a good idea of what you want your brand to look like, you'll be ready to get into the nitty-gritty of developing your products. This involves focusing on the specific details of each of the items you aim to sell and deciding on the packaging you'll use to keep your cosmetic creations protected.
Ingredients
Regardless if you're going to be making your products yourself or hiring somebody else to do it for you, it's crucial that you're very well aware of the ingredients used to formulate your makeup. In fact, even if you're reselling other brands' creations, you'll want to know exactly what's in the items! This is to ensure that you're communicating accurate information consistently across your website, on your product packaging, and in your marketing messages.
If you're going to be sourcing ingredients on your own, be certain that they're of skincare grade and that your country allows them to be used in makeup products. In addition, when opting to use preservatives, learn how they can have an impact on your products and their shelf life.
Note that you should be able to back up any specific claims you make about your products and their origins. For instance, if you state that your makeup is 100% organic, you must be capable of obtaining the applicable certifications, either yourself or from your suppliers, that prove that this is indeed the case.
Packaging
When it comes to ecommerce, "packaging" often refers to what you use for shipping your products to customers, e.g., cardboard boxes or padded envelopes, to ensure that their orders arrive safely in the mail. Here, however, we're talking about how you plan to contain your lip gloss, mascara, eye shadow, etc. to be able to facilitate their usage by customers.
As you research various packaging options, keep in mind that the packaging for your makeup will have numerous purposes. In addition to protecting your products, it can add to the user experience and even serve as a marketing tool.
Make sure that your product packaging accurately represents your brand and makes any pertinent information pertinent easy to read on the label. Besides featuring your brand's colors and logo, the packaging should be in line with your brand's values. If you say that your business is committed to sustainability, for example, it's advantageous to have the materials you use in your packaging reflect this!
5. Test your products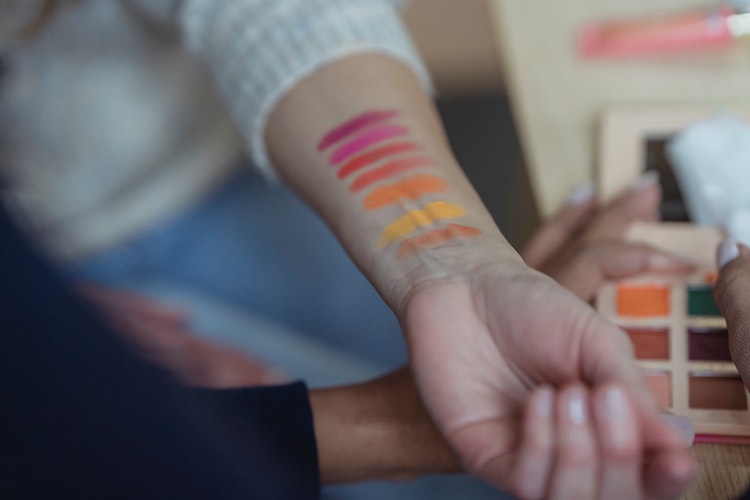 Before launching your makeup business and making your products available to the public, it's a good idea to thoroughly test the items you plan to sell, especially if you're debuting a completely new makeup line.
Remember that many countries require cosmetic brands to perform extensive product testing to ensure that they're safe for use on the skin. You'll therefore want to keep careful documentation of the testing process your products have undergone, both for legal reasons and for your customers' reassurance.
Besides assessing your makeup for safety concerns, check that the products live up to the performance claims you make. Say that you state that your amazing lip stain allows users to maintain a smudge-free pout for up to 24 hours. If, while testing the item, you find that the product is starting to vanish from your lips after a measly 30 minutes, it's back to the drawing board to perfect the formula!
Don't forget to also test the packaging for your cosmetics. Confirm that it not only protects your highlighter, eye shadow, lip gloss, or whatever beauty product it houses and will continue to do so during the shipping process, but also provides a seamless experience for the customer. For instance, if you sell mascara and its wand often gets stuck because the container is too small, your customers will quickly start to become frustrated and may be discouraged from making future purchases from your store.
6. Build an ecommerce website
Although you aren't required to have an online presence when starting a makeup business, it's certainly advantageous to do so, even if you also aim on selling your beauty products in brick-and-mortar stores. Building an ecommerce site will allow you to reach a wider range of shoppers and maximize convenience and control when it comes to running your business.
If you decide to create an internet store for your makeup brand, a website builder will be part of the cost to start your online boutique. Keep in mind that choosing a top-of-the-line ecommerce solution to accompany you can make your adventure in online sales all the more enjoyable.
With the WiziShop platform, you'll be able to avail of a plethora of website design themes, access to a knowledgeable team of Business Coaches, free ecommerce training, 400+ tools to help your conversion rate skyrocket, and much more!
Get started with WiziShop today and enjoy a 15-day free trial to see for yourself why it's the best solution to aid in making your dream of becoming an ecommerce entrepreneur a reality.
Create your online store - 15-day free trial
Once you've begun to build your ecommerce site, note that are several parts of your product pages that you'll want to pay particular attention to to optimize these page for your makeup business:
Product descriptions
Besides boosting your site's SEO, product descriptions serve to supply visitors with helpful details designed to guide them in their purchasing decisions. When well written, a description should make it possible for shoppers to imagine using the item and answer any questions they might have about its appearance, formulation, and usage.
Remember that people visiting your online store won't be able to view your makeup or test it on their skin, so it's important to be detailed in the information you offer. List each product's ingredients, being careful to also provide any allergy notices and/or warnings. In addition, explain elements such as the item's application, instructions for use, finish, and texture.
In short, you'll want to approach the writing of your descriptions with the goal of convincing shoppers of your products' merits and conveying how these items will have a positive impact on their lives to encourage sales. Furthermore, detailed and accurate descriptions should aid in keeping product returns to a minimum, as customers will have a better understanding of what they're getting before they spend money on your site.
Product photos
As with any goods being sold in ecommerce, high-quality photos of your makeup products are a must! It all goes back to the aim of improving the customer experience on your website and assisting your customers with envisioning your products without having them physically in their hands.
Because makeup products tend to be small, plan to include multiple images against a simple white background to show the items in detail. I also strongly recommend that you add photos that demonstrate how the product looks on the skin, preferably using a wide range of skin tones to ensure that your color swatches are as helpful to as many people as possible.
Finally, you might consider adding video content to further enhance your product pages and provide an even better experience for your visitors. Makeup tutorials, lookbooks, and even Q&A sessions are all excellent ways to take advantage of the video format and delight current and potential customers alike!
7. Promote your makeup brand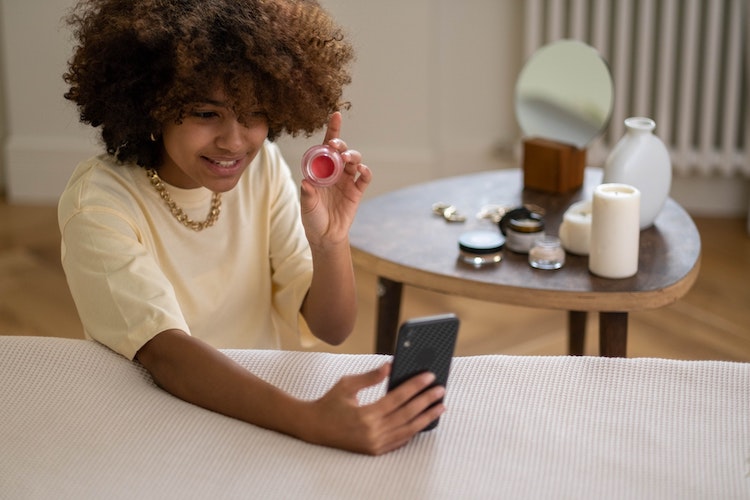 As you'll likely have noticed, the competition in the beauty industry is fierce. New makeup brands sometimes find it intimidating to enter such a saturated market that, at first glance, can appear completely dominated by larger companies. This is why finding the right niche for your business is key!
Once you've perfected your products and your online retail business is live, you'll need to determine how to best reach your target market in order to spread the word about your new business and start earning sales. Promoting your makeup brand can involve a variety of marketing actions, some of which will result in higher costs than others. The right options for you will depend on your resources and the consumers in your specific audience.
Here are a few channels to consider when developing the marketing strategy for your makeup business.
Utilize social media marketing:

Take advantage of the explosive popularity of social media by creating a presence on the networks most frequented by your buyer personas. By sharing different types of engaging content, you'll gradually build a community of followers and subscribers who may soon become loyal customers.

Share customer reviews:

The importance of sharing reviews from happy customers cannot be overstated. According to

Statista

, in 2021, almost 70% of online shoppers stated that they tend to read one to six reviews prior to deciding if they're going to buy a product on the internet. Although you obviously won't have a ton of customer testimonials on hand when you first launch your business, share them on your website and social networks when they start to roll in.

Start a blog:

Blogging as a form of content marketing is an excellent way to build trust in your makeup brand and reach a larger group of potential customers. Note that rather than using your blog posts to promote your products, you'll want to aim to share your knowledge on topics in the beauty industry relevant to your target market and help them learn how to solve common issues they may face.

Collaborate with influencers:

Unless you're already well known in your industry, growing your audience on social networks and other platforms can be a slow process. This is where influencer marketing comes in handy! In exchange for free goods or money, influencers known for their knowledge of the beauty industry and experience in touting cosmetics can significantly increase awareness of your makeup brand by promoting your products on their networks, which can feature audiences of anywhere from 10K to 500K+ followers!

Optimize your SEO:

Working on your SEO involves optimizing your website using a variety of techniques to improve its rankings on search engines like Google and boost traffic to your online store. Different tactics include performing keyword research to determine what your audience is likely searching for and using those terms throughout your site (product descriptions, blog posts, etc.), obtaining backlinks, using alt attributes for your photos, and ensuring that the pages on your site load quickly.

Important:

WiziShop takes care of all the technical aspects of SEO for you when you create an online store on our platform…just another reason to take the first step in starting your ecommerce adventure and test the solution today!
Create your online store - 15-day free trial
One last tip: Establish an effective inventory management system
After spending so much time, effort, and money in developing your product line and brand for your makeup business, the last thing you need is to have your stock go bad due to poor inventory management methods.
Just like with skincare products, makeup has a shelf life and will inevitably expire at some point. Although makeup goods can be more challenging to take care of than other items sold in ecommerce, it's made much easier by following a few simple rules:
Stay informed about the shelf life of each of your products:

Different types of makeup can last for different periods of time. For instance, foundation in a powder form will generally have a longer shelf life than that of foundation in a cream or liquid form. Knowing the expiration dates of your brand's goods is essential to minimizing product waste and maximizing customer safety.

Be careful of where you store your products:

Makeup may not take up as much space as other products, but they're often more susceptible to damage that can occur during storage. Whether you store your items at home or in a separate facility, know that a space that's dark, cool, and dry is best for keeping makeup in good condition for as long as possible.

Remember that organization is key:

Depending on the number of products you sell, keeping on top of your inventory can vary in difficulty. However, staying organized is important for any makeup business, regardless if you offer a single item or an entire range of goods, and even more so if you're handling this aspect on your own. Be sure that containers holding your products are clearly labeled so that you can easily identify what's inside and quickly prepare your customers' orders.
Starting your very own makeup business can be a very exciting venture. The beauty industry is likely to continue to grow, and although there are already many cosmetic companies out there, there's plenty of room for new brands to enter the market and be successful when they target the right niche with high-quality products.
By using the steps outlined in this article to guide you in developing your strategy and learning from your mistakes as you go, you're sure to soon start to see your new makeup business flourish!