The meta description tag is one of the most well-known tags in SEO. Although it's not directly taken into account to improve your SEO positioning, it can really have an impact on your visibility and boost your click-through rate (CTR). It would therefore be wrong to neglect it!
What do you think about the idea of gaining traffic to your pages simply by optimizing your meta description?
Let me give you some tips on how to effectively work on this element and get the most out of your meta descriptions!
What is the meta description tag?
The meta description is an HTML tag that is located in the upper part of the page code. It's usually located just below the title tag.
The meta description is represented in the source code by:
<meta name="description" content="Ici, votre description" />
In SERPs (search results), it's also displayed below the URL and title:

The latter can be placed wherever you want in the HTML header, provided that it's located between the <head> and </head> tags.
Besides the H1 tag and the heading tags, the meta description is one of the most popular tags in SEO, and ecommerce SEO is no different. In the past, its content was directly analyzed by search engine robots. It had a direct impact on a site's position in the search results.
Today, this has changed. The content in meta descriptions is no longer considered in ranking algorithms.
The objective of the meta description is rather to offer a succinct summary of the content of your pages to internet users, to encourage them to click on the link and go to your page.
To be effective, a meta description must go straight to the heart of the matter. It must be concise, descriptive, punchy, and unique for each page!
Meta description and SEO
As you'll have gathered, the keywords used in your meta description aren't taken into account by Google's algorithms to improve your SEO.
However, writing great meta descriptions can still have an impact on your visibility and your SEO. To better understand, here are some explanations...
No direct impact
It's a widely proven fact: the meta description has absolutely no direct impact on SEO.
Google states it directly on its official blog, as well as in all its help pages for webmasters:

Google clearly says that the meta description can improve clicks, but it doesn't affect how well you rank in the search results.
For several years, developers have also been working on the subject:
I

n 2007, Raj Krishnan (developer for snippets at Google) stated that "even if meta description tags could improve click-through rates, they don't affect the ranking of sites in search results."

The same year, John Mueller (webmaster trends analyst at Google) also repeated that "using a meta description tag is optional and has no effect on your ranking."

Two years later, in 2009, Matt Cutts (head of the fight against spam in the algorithm at Google) added that even if Google was sometimes using the meta description tag to generate the snippet, it still wasn't using it in its ranking algorithm.
So, there's no doubt about it, and it's easily verifiable by tests: the presence of keywords in the meta description has no direct impact on Google visibility.
Indirect impact?
In this case then, what's the point of refining your meta description?
First of all, by writing an attractive summary, you'll encourage people to want to check out your search result. You'll therefore inevitably increase your traffic!
The CTR can be data that's taken into account by Google algorithms.
Even if the meta description itself has no impact on the search results, a good CTR sends a positive signal! A good CTR means that your website is appreciated by those browsing the internet, making it potentially more relevant than other sites.
In this case, Google can consider this information, and the meta description still ends up having an impact on your SEO!
Google adapts your meta description
As you may have noticed, sometimes Google decides not to use the meta description that you provided. What a disappointment when you have taken such care in writing it!
In fact, this phenomenon is the result of the Google algorithm: it has the ability to assess whether your meta description is really adapted to the query typed by internet users. This is also specified in the Google article that I shared with you above.
Sometimes, Google thinks it's better to provide a snippet from sentences and excerpts of your website rather than displaying your meta description.
How do you optimize the meta description?
Now that you're aware that the meta description is a strategic element of your ecommerce store, let me give you some tips on how to write it well and make it more effective.
Boost your CTR
The main objective of your meta description is to attract a maximum of visitors to your pages.
They must be curious to visit your site, and your meta description must make them want to select your link from the lengthy list of search results.
To do this, use an impactful and engaging style. In just two sentences, people must be convinced that they'll find the answers to their questions on your online store.
To involve them directly in your speech, you can use the second-person point of view (the "you" perspective). Don't hesitate to include other marketing phrases in your meta description such as "Free delivery," "Money-back guarantee," etc.
These often have a strong impact on the CTR!
Present the content of the page
The description of your meta description must be the best possible summary of the content of your page.
More concretely, when web users read your description, they mustunderstand the essence of what awaits them while arousing their curiosity. This means that your meta descriptions must all be unique.
No two pages on your site can have the same description. Forget generic texts and copy and paste!
Write content that's different from your title
Your meta description should logically be different from your title tag. If it doesn't add anything new, Google will automatically create a snippet to replace it.
Make the effort to rephrase your ideas, while developing them further than what you've used for your title. The meta description is an excellent solution to give the user more detailed explanations.
You can take advantage of this to work on your copywriting and try to craft a powerful meta description.
Analyze the click rate with Search Console
Of course, like any other element of your online store, the effectiveness of your meta description must be checked and analyzed.
To do this, take a look at the search analysis report available in the Search Console tool. It provides valuable information on the appearance of your site in the Google results pages.
More concretely, this analysis allows you to review the following:
I

mpressions on your online store's different pages

Clicks on your online store's different pages

The average CTR of your different pages
By default, the data is displayed for the last 3 months, but you can go back up to 16 months.
To analyze page by page, just select "New" and the "Page" filter.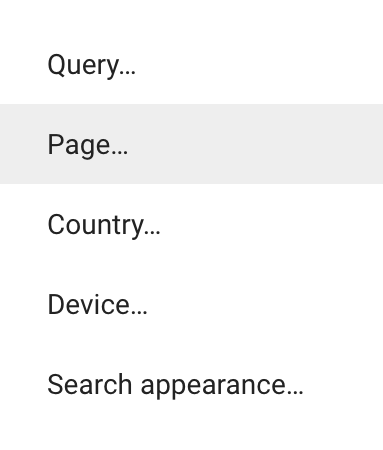 Every time your ecommerce store is displayed in search results, it counts as an "impression." Every time someone clicks on your site's link to view your page, it counts as a "click."
By analyzing your performance, you can draw different conclusions about the content of your meta description or your title tag.
Be careful, as these statistics must be analyzed in detail in the SERP. It's quite possible that your CTR is low because Google displays, for example, ads, photos, or local results before organic results.
Nevertheless, it's still essential to examine the statistics related to the performance of your website in the Google search results.
This helps you to know how often your ecommerce store is displayed, what its average position in the results is, or what your click rate is.
This valuable information allows you to follow the evolution of your traffic over time and to determine the origin of your visitors. These data are precious for the sustainability of your business and the growth of your site.
The perfect size for the meta description
Now, let's see what size you should use to write your meta description.
The size in characters
Here again, the rules established by Google tend to evolve over time.
In the past, the idea was to have a length that didn't exceed 160 characters. However, in 2017, Google decided to increase the size of this description to a maximum of 300 characters.
Finally, in May 2018, Google chose to go backwards. Now, the maximum size allowed is about 155 characters.
So, is this a mandatory rule to respect? Not necessarily! If the size of your meta description exceeds 155 characters, though, Google will display the first 150 letters followed by ellipsis (...).
Meta descriptions that are too lengthy have no impact on SEO. However, they aren't ideal for the comfort of navigation of web users and CTR.

On the other hand, you should also avoid meta descriptions that are too short. Google generally doesn't use them and automatically replaces them with snippets. I therefore advise you to write a meta description of at least 120 characters.
The size in pixels
Finally, you should know that in reality, to reach the perfect size with your meta description on Google, you have to rely on another indicator than the number of characters. Just like for title tags, the most reliable indicator is the pixels.
The characters definitely don't occupy the same space! For example, a "w" occupies more pixels than an "i." Similarly, capital letters also take up more space.
It's therefore best to avoid writing a meta description in all caps. You won't be able to place as many characters as expected, and it can be perceived as being aggressive by the web user.
For meta descriptions to reach an ideal size, avoid exceeding 920 pixels. I suggest that you use an online simulator to know the precise number of pixels of meta description, like the one I present in the article on the title tag.
In conclusion, the meta description is a very beneficial element to work on for your online store. Its display in the SERPs makes it particularly visible to internet users.
Even if it doesn't influence the positioning, the indirect impact of the CTR and the traffic generated on your pages should incite you to make it simple, clear, and attractive to drive potential and current customers to click!