Social media isn't free!
You invest time, human resources, and, if you use them properly, money. But for what return on investment (ROI)?
If there's one problem associated with social networks, it's calculating the ROI of your social actions, which remains difficult to achieve. And yet, you need to assess your objectives and whether or not your investments are making you money.
Why is calculating ROI so difficult for social media marketers? What are the alternatives?
Here is a guide and some thoughts that will allow you to evaluate your performance!
What is the importance of social media ROI?
The importance of social media ROI lies in evaluating the effectiveness and profitability of your social media efforts. It helps measure the return on investment for resources allocated to social media marketing. By taking the time to analyze ROI, marketers and businesses can identify which strategies generate the most value, optimize marketing campaigns, and allocate budgets wisely.
Tracking ROI ensures that social media efforts and campaigns align with business goals, whether it's increasing brand awareness, driving website traffic, or generating sales. Understanding social media ROI is ultimately crucial for marketers to better make data-driven decisions, maximize the impact of social media marketing, and achieve a higher overall return on investment.
Why is social media ROI difficult to calculate?
Entrepreneurs, whether e-tailers or not, know it. Measuring performance on social networks is difficult.
And this is true not just for social media goals but for all digital marketing levers and acquisition channels.
Why is ROI so difficult to calculate?
The visual by Databox below shows that the lack of organization concerning data and the multiplicity of channels are some of the major constraints on acquiring this central information.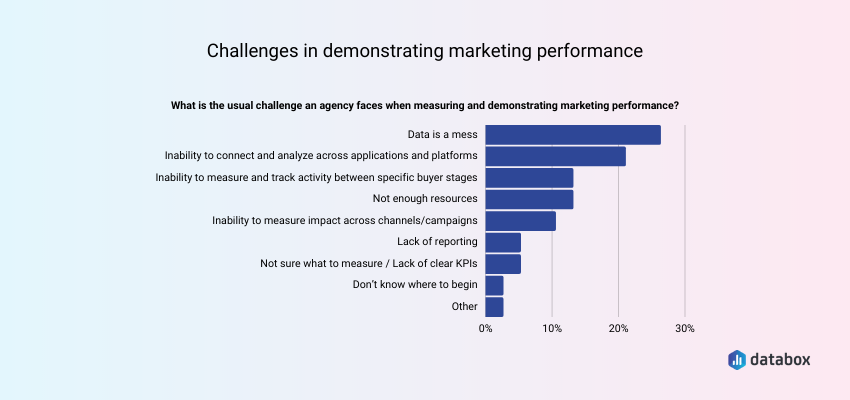 Source: Databox
What's difficult about social networking is that you can't calculate short-term ROI. It's a long-term process that takes time.
An internet user may very well buy a product, without us being able to trace the fact that they discovered it on social networks.
What's more, as we all know, measuring influence on social networks isn't calculated in terms of the number of followers or simply in terms of traffic to a profile.
You can have 10,000 or 100,000 followers, but if they're not engaged or qualified, they're of no use to you.
In addition, the nature of a "Like" is very difficult to define in social media campaigns. It can mean many things, with varying degrees of influence.
For example, liking a business page on Facebook or LinkedIn can mean any of the following:
I genuinely like the brand.
I authorize it to send me information.
I want to monitor the brand.
Engagement (likes, comments, shares...) is one of the first measurement indicators.
However, it has its limits, since without analysis, information processing and segmentation, an audience is of no interest to a business.
Finally, social network metrics aren't financial assets.
This information is therefore difficult to quantify, and a report cannot be counted as sales, nor can they appear on a business's balance sheet.
However, they still have value. After all, as Henry Ford said, "The two most important things in any company do not appear in its balance sheet: its reputation and its people".
Today, more than ever, with the popularity of the web, the stakes linked to a company's online reputation are crucial, especially in social media. If your business suffers from a poor e-reputation due to negative reviews in particular, your business is likely to struggle to survive, and you will need to redouble your efforts to counterbalance these negative elements with an optimal communications campaign.
It's therefore essential to evaluate your reputation, improve it if necessary, and do everything in your power to maintain it.
How can this be done? What alternatives are there to measuring performance on social networks, whether they be Facebook, Instagram, TikTok, YouTube, or another platform? Keep reading to discover everything you need to know to optimize your efforts!
How is ROI calculated and analyzed?
The sub-cited indicators for return on investment are classic. However, they have the advantage of being easy for marketers to measure and represent a relevant first element of analysis. What are they?
Measurement of the audience for your site or blog: This can be the number of unique visitors, number of pages viewed, evolution over a given period... For this, Google Analytics is your friend!
Origin of visits to your website: This includes the path taken by a visitor arriving on your site via a social network and, conversely, those who visit one of your social networks from your site.
Conversion: Also, for an ecommerce site, you can analyze conversions in terms of sales. This figure is calculated according to the number of visitors who become customers. For all other sites, conversion can be represented by the download of a document, a newsletter signup, a callback request, etc. In short, you're checking whether the objective you were looking for has been achieved with the launch of a social communications campaign.
How do you measure your performance on social media? Examples of other approaches to social media ROI
Since calculating ROI on social networks remains difficult, a different approach is introduced with the notion of social media ROI. This takes two parameters into account.
Return on objectives (ROO)
The ROO consists of measuring after the fact the achievement of the priorities determined when setting up your social presence, and not just counting.
In other words, you start by defining the objectives you're pursuing, which will then enable effective measurement, appropriate to the achievement of your intentions.
For example, you set a target for the number of unique views on a blog post and then check whether the target has been reached. If this is the case, then you consider your strategy to be effective.
Risk of non-investment (RONI)
The RONI consists of analyzing the cost of non-presence on social networks, i.e., the loss of contact with consumers who have become social.
Advertisers are underinvesting in the web. In fact, the internet accounts for 30% of all media consumed, yet only 8% of marketing budgets are allocated to it!
What's more, even if you haven't created your business's social profiles, it's already present on the web, at least via the opinions and comments of internet users, or via unofficial accounts created either by fans or detractors.
And your business's reputation is at stake on these various forms media. One of the risks is that internet users create a social presence in place of the business itself.
This was already the case with Coca-Cola, in the early days of social networking.
The unofficial page's two administrators were subsequently hired by the brand. A fine initiative on the part of Coca-Cola, which perfectly demonstrated its understanding of the challenges of social networking.
Fortunately for them, they were true brand ambassadors.
However, the risk of a parodic presence does exist, and it can damage a brand's reputation.
The Forrester Institute approach
For them, evaluating the ROI of one's presence on social networks takes four perspectives into account:
Financial: Have the actions taken on social networks increased sales or reduced costs?
Risk management: To what extent is the company better prepared to manage a crisis, news item, bad buzz, or potential failure that could affect its reputation?
Digital: Have the actions taken strengthened the brand's presence on the internet, particularly in relation to its competitors?
Brand: Have consumer attitudes towards the brand improved? It may be, for example, that by reworking the brand's image on social media networks, consumers have been able to create an affinity with it—a bond that didn't exist before.
Which KPIs demonstrate effectiveness on social media? Top metrics to start tracking
In short, there are five key performance indicators (KPIs) to take into account when measuring your effectiveness on social media.
Visibility of actions on the internet
Your actions have borne fruit if your business is seen on the internet and therefore has a high ranking on search engines.
To do this, analyze your positioning on Google.
Take the time to compare this data with that of your competitors and determine your share of voice. Study the demographic profile of the audience you're reaching.
Does it correspond to your brand's core target audience? Or are you reaching other people?
At this point, you may need to consider adapting your offer to suit this new target. Remember, this is a public to be seduced, not an audience you simply have to appeal to.
Acquisition generated organically or via advertising
Carry out three analyses:
Analysis of the sources of your site's visitors to determine which levers are most effective and which need to be optimized.
Analysis of acquisition costs, i.e., the cost per member recruited (fan, follower, etc.).
Analysis of the transformation rate, i.e., visitor conversions.
Finally, compare these results with expenses and revenues recorded on conventional levers, such as the average CPC on Google Ads, for example.
A company's recommendation and growth rate
This involves calculating what is known as the Net Promoter Score, the interpretable loyalty indicator for customer satisfaction.
The idea is to analyze the extent to which an individual recommends a business, product, or service to others. Of course, this score can be compared over time or between different businesses.
Here's the formula:
Net Promoter Score = % of promoters - % of detractors
The score is expressed as an absolute number, between -100 and +100. If it's positive, customer satisfaction is good.
You can also calculate your brand's virality rate using the following formula:
Virality rate = % of visitors who invite a friend x average number of friends invited x % of friends who accept the invitation.
Content is considered viral if the result is greater than 1.
Engagement, the cornerstone of community management
To ensure that your community is active, we need to measure the interactions linked to the content you offer.
On social media networks, this means "likes," "votes," "comments," "shares," etc. On a website or blog, we will analyze the number of pages viewed per visit, as well as the duration of the visit.
Note that the level of engagement varies according to the number of interactions. A "like" is less engaging than a comment, a share, or a blog post.
Moreover, when someone shares your content, it means they trust you enough to be credible with their own network. In other words, intent is more important than a simple like.
The tone of the exchanges with your business's target audience
Finally, we need to analyze the tone of the exchanges. We determine the overall feeling of the exchanges and discussions.
This can be positive, negative, or neutral. Of course, a brand may create tons of engagement, but in a negative way. Your aim should be to maintain cordial, close communication with your subscribers, in order to get them to visit your site and turn your traffic into sales.
How can you increase social media ROI?
When it comes to boosting your social media ROI, there are numerous actions you can take, many of which you'll likely be able to begin implementing today!
Set clear goals: Define specific and measurable objectives for your social media campaigns. For example, if your goal is to increase website traffic, track the number of clicks on the links you share and the traffic sources from social media platforms. Clear goals for every campaign provide focus and help you assess the success of your efforts.
Know your audience: Conduct thorough audience research to understand their interests, preferences, and pain points. Use social media analytics to identify the most engaging content and tailor your posts to meet your audience's needs.
Engage with your audience: Responding to comments, messages, and mentions shows that you value your audience and encourages them to interact more with your brand. It fosters a sense of community and builds brand loyalty.
Ensure consistent branding: Consistency in visual elements, tone, and messaging across all social media platforms helps establish a strong brand identity. Use the same brand colors, fonts, and logos to create a cohesive brand experience.
Prove high-quality content: Focus on creating valuable and shareable content that resonates with your audience. Use a mix of formats, such as videos, images, infographics, and blog posts, to keep your content engaging and diverse.
Use influencer marketing: Partner with influencers who align with your brand and have a substantial following. Influencers can introduce your products or services to their audience, boosting your reach and credibility.
Try paid ads: Utilize social media advertising to target specific customer demographics, interests, and behaviors. Customized paid ads can drive website clicks, app installs, lead generation, or sales, depending on your goals.
Analyze metrics on a consistent basis: Regularly review social media analytics to measure the performance of your campaigns. Track metrics such as engagement rate, reach, clicks, conversions, and customer acquisition cost. Analyzing these data points will help you identify what's working and what needs improvement in order to increase your ROI.
Monitor competitors: Keep an eye on your competitors' social media activities, observe their successful strategies, and learn from their mistakes. Use competitor insights to fine-tune your own social media approach.
Experiment and adapt: Social media is constantly evolving, so be open to trying new tactics and experimenting with different content formats. Be responsive to changing trends and preferences, adapting your strategies to stay relevant, maximize social media ROI, and boost your conversion rate.
Top 3 tools for calculating your social media performance
Digital marketing tools exist to help you measure your social media audience and evaluate each campaign. They make your task easier by allowing for automatic report generation. Discover some of today's best tools for tracking your social media performance and strategy: Hootsuite, Agorapulse, and Buffer.
Hootsuite: tracking and measuring your social influence
Hootsuite is a complete tool for social media networks.
This analysis tool takes into account several parameters, such as audience size, reach, and engagement of published posts (number of likes, comments, shares...).
Hootsuite enables you to track all the data linked to your social network communities and your activities on the platforms.
Hootsuite is the world leader in social media management, enabling you to track all the information you need to communicate with your communities in real time and optimize the return on investment of your social media campaigns.
On Hootsuite, you can publish and schedule your posts, manage messages and comments from your subscribers, but also track the activity of your posts, brand awareness, monitor all movements on your networks like Twitter, Facebook, Instagram, Pinterest, etc.
Above all, you will be able to analyze all your results to improve and evolve your company's social networking strategy. Whether you have a marketing manager or not, Hootsuite enables structures of all different sizes to give publications a new direction, towards achieving a better ROI in the long term.
Agorapulse: the complete measurement tool
Agorapulse is the benchmark application for social networking statistics. On Instagram, TikTok, LinkedIn, Facebook, and Twitter, analyze your data in depth with Agorapulse to take your digital marketing strategy in the right direction. Keep your KPIs in mind as you seek out the best practices for your brand on social media networks in relation to your target audience.
On the financial side, the more data you have about your communities and your actions on social media networks, the more you will be able to draw concrete benefits and a positive ROI.
Agorapulse is one of the best and easiest tools to use, with a very simple and fluid user experience, a platform that can help you on a daily basis to better understand the impact of your online actions.
Buffer: the free ROI calculator
Unlike the previous two platforms, Buffer is a totally free application that allows for social media monitoring of all your networks. Buffer lets you schedule and publish your social media posts, manage your social platforms, and track your analytics, enabling you to calculate your brand's ROI.
With the Buffer free tool, you can monitor your engagement and your engagement rate and respond to messages and comments from your communities. It's therefore one of the indispensable social media management tools for getting started in managing your social media networks and developing your brand awareness towards recruiting new customers and therefore increasing your merchant profits.
Social media marketing: Public statistics?
It's important to know that public statistics reports on your social presence are available.
On Facebook in particular, businesses can monitor pages with Facebook analytics and have access to their number of followers, the reach of their posts, their engagement rate, their external referrers as well as the demographic, and geographic data of their audience.
Take advantage of these various tools for report generation to optimize your efforts and investment social media networks! It's a quick and easy way to compare and position yourself against the performance of your competitors.
You now have all the tools you need to measure the effectiveness of your actions on social media networks and compete with the biggest businesses in your market. This will enable you to get the most out of every campaign and boost your business. Questions about your social media networks?
Sign up with the WiziShop ecommerce platform today, and get access to our team of professional Business Coaches, who are at your disposal to help you with any ecommerce-related topic and all aspects of your marketing.
Enjoy a 15-day free trial and see for yourself why the WiziShop platform is the best on the market for helping you to achieve your entrepreneurial goals in sales, social media, and more in no time!
Create your online store - 15-day free trial