Pinterest is sometimes overlooked as a platform to include in the social media marketing strategies of ecommerce business owners. However, depending on your target market, this social media network has the potential to really increase awareness of your brand and boost traffic to your online store's blog and product pages…which of course may lead to more sales!
Just like with any other social media platforms you choose, though, you'll want to make sure that you're optimizing your efforts on Pinterest to help you get the best results possible. Part of your marketing strategy for Pinterest involves when you choose to post on the platform.
In this article, we'll take a look at why the timing of your Pins matters, a general idea of what the best posting times and days are on Pinterest, and some tips to follow to determine your individual optimal time to post.
Does it really matter what time you post on Pinterest?
As with many social media platforms, Pinterest started out with a chronological feed. This means that Pins were displayed in the order in which they were Pinned, making the timing of those Pins SUPER important. If you posted at an inopportune time, there was a very good chance that your content would never be seen by your followers and other users on the network.
Today, however, Pinterest now features a Smart Feed, which employs a complicated algorithm to show users the posts that the platform believes will be the most interesting and useful to them. With a feed no longer based on chronological order, some brands believe that the timing of their posts is no longer relevant and that they should pin whenever they like.
Hold on a minute, though!
Before you get carried away and start pinning your fabulous Pinterest post ideas at all hours of the day, it's essential to consider the social network's algorithm and the impact of timing to make your brand's strategy as effective and efficient as possible.
Pinterest's algorithm works by examining numerous signals of user engagement when determining how to rank Pins. For this reason, it's crucial that your Pins appear to your target audience not only when they're most likely to be on the platform but also when they're most likely to engage with your content.
If Pinterest notices that people are clicking on or saving your new Pins, the platform considers your posts to be high quality and useful to users. This in turn indicates to Pinterest that your content is worthy to be viewed by other Pinners, and this can help your Pins to rank higher in the Smart Feed and search results and get more people to see them. With this action, your content will get more views, increasing your reach on Pinterest and boosting awareness of your brand.
In contrast, if Pinners aren't reacting positively to your Pin, either because the users you're trying to reach aren't online at the time or your audience isn't interested in what you're sharing, Pinterest may think that you're posting low-quality content and not give that particular post much reach. Unfortunately, when Pinterest receives repetitive negative signals concerning your Pins, this can work to lower your reach for future shares as well.
When considering all the above, it's clear that getting the timing right for your Pinning strategy is definitely something that you'll want to prioritize!
When is the best time to post on Pinterest?
Similar to what we've seen when trying to determine the best time to post on Facebook or the best time to post on TikTok, what's considered to be the best time to post on Pinterest can vary depending on the information source.
One thing to keep in mind is that people tend to use Pinterest most often during their leisure time and in the evening. As Pinners often use the platform to plan projects, it makes sense that they'd be less apt to browse the app while at work when they may only have a few minutes to spare during their break times.
In fact, a recent study by CoSchedule examined data from numerous digital marketing companies using Pinterest and found that the overall best time to post on the social media network is between 8 p.m. and 11 p.m., with 9 p.m. being the peak hour.
This study also notes that the periods of 2 a.m. to 4 a.m., 2 p.m. to 4 p.m., and 1 p.m. to 3 p.m. showed positive results as well.
Source: CoSchedule
It's interesting to note that as far as the best day of the week for posting on Pinterest goes, CoSchedule states that Friday and Saturday may be the most opportune, which, as we've discovered, differs greatly from other networks, such as the best time to post on Instagram, for example.
Although the time zone wasn't specified in the article, it's important to note that according to a Statista study examining Pinterest audiences worldwide, the US has the greatest number of Pinterest users, with more than 86 million Americans using the platform as of January 2022.
Furthermore, the country's time zone with the highest percentage of the population is EST at almost 50%, followed by CST.
Therefore, if you're hoping to target the largest English-speaking audience possible, you may want to use a Pinning strategy based on EST and/or CST. However, if you're aiming to get more followers located in a different part of the world, you'll likely want to try the aforementioned times in that area's particular time zone, e.g., posting between 8 p.m. and 11 p.m. CET if your target audience is based in France.
How to find the best time to post on Pinterest for your business
Although the above information provides some good guidelines regarding optimal pinning times, it won't be applicable to every business out there. While some brands may find loads of success with posting on Friday evenings, for instance, others may learn that earlier in the week around lunchtime works better for them.
Fortunately, you don't need to throw darts on the wall to pick your best time to post on Pinterest!
Here are a few actions you can start implementing today to help you to optimize your pinning marketing strategy, get more followers, and increase traffic to your site.
Pin consistently for a minimum of 30 days
In order for you to be able to determine your ideal time to post on Pinterest, you must first have an active presence on the social media platform. To do so, you should begin by posting content yourself, or pinning manually, and be sure to do this for at least 30 days.
This will demonstrate to Pinterest that you're active and that you have Pins on a variety of Pinterest boards. However, note that you shouldn't be just sharing anything and everything…high-quality content, whether that includes images, videos, or a combination, is key to getting other users to repin your content!
New to Pinterest? Consider taking the following steps to make the most of manual pinning for your brand:
Use a Pinterest business account:

Besides giving your presence a more professional look, this grants you access to the platform's in-app analytics.

Optimize your business profile:

Ensure that you're using the right keywords in your profile for better searchability.

Claim your website:

To be able to view stats for Pins created by other Pinners from your website, you'll first need to claim your website and Instagram, Etsy, or YouTube accounts.

Create vertical Pins: As high-quality, vertical images tend to have the best performance on Pinterest,

the platform recommends creating Pins with a 2:3 aspect ratio

, e.g., 1000 x 1500 pixels.

Create multiple boards:

Help improve your reach by creating various boards designed to appeal to your target audience.

Optimize every board:

Make your Pins more likely to be found by incorporating the most relevant keywords.

Pin multiple times a day:

By sharing posts several times a day, you'll be able to compare engagement at different hours and see when it's highest.

Repin other users' Pins:

This action can help to build your community on Pinterest, and it increases the chances of having users check out your profile and even share your own Pins.
Check Pinterest Analytics
The analytics offered by Pinterest for business accounts can show you how well your brand is doing on the social media platform in various areas. Metrics available with Pinterest Analytics include impressions, engagements, Pin clicks, video views, saves, engagement rate, total audience, and others—some of which can be helpful in determining the best time to post on the platform.
For instance, by viewing your audience demographics, you can see where your users are located. If you find that most Pinners in your target audience are based in a certain time zone, you'll know to take that into account when sharing your content and avoid pinning, say, when these users are most likely to be asleep.
Keep in mind, however, that while you can view what day you posted a Pin, you won't be able to see the time. This means that in order for you to determine, for example, what times your Pins received the most engagement, you'll need to keep track of the hour you posted your content on your own, perhaps in a spreadsheet.
Although this may be feasible, albeit still time-consuming, when you're just starting out, it'll become much less so after you've developed more of a presence on the social media platform and have a significant amount of content for which you want to review data. For this reason, while this strategy does supply helpful information, it may not be the most efficient method to find your best time to post on Pinterest.
Take advantage of Google Analytics
If you're already using Google Analytics to obtain useful data pertaining to your ecommerce website, such as page views, audience demographics, top traffic sources, etc., note that this tool can also help you to narrow down the right time to schedule your Pinterest posts!
This can be achieved by going to your Google Analytics homepage, and scrolling down until you arrive at the "When do your users visit?" section. In the "Users by time of day" report, you'll discover when people most frequently visit your site.
In my example below, I see that Tuesday appears to have the highest number of visits overall, with a fairly large window of 9 a.m. to 10 p.m. for peak visitor numbers. That being said, from this report, I see that the rest of the week, from approximately 9 a.m. to 8 p.m. is actually pretty decent too. Another important observation is that my site seems to have the lowest number of visits on the weekend.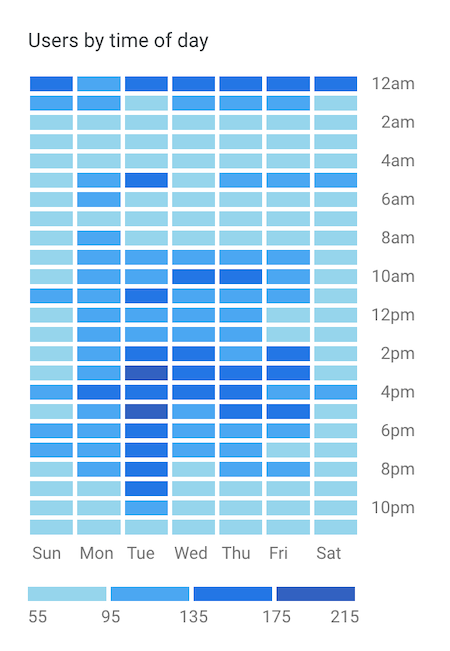 Although the information in this report won't explicitly tell you when you should be posting on Pinterest, it offers insights as to when your target audience may be most active online. You may later find that your site visitors' social media usage, particularly for Pinterest, differs significantly in terms of timing compared to when they go to your site, but this Google Analytics report provides another helpful perspective to consider.
Use a third-party social media tool
Another route you may want to try when on the journey to finding your ideal pinning times is availing of a third-party social media tool, such as Tailwind, a scheduling app for Pinterest and Instagram.
Besides saving marketers tons of time by making it possible to schedule Pins ahead of time, Tailwind's Smart Scheduler suggests to users the optimal times to post based on when the people they're trying to reach on Pinterest are most active on the social media platform.
Note that it takes a few weeks of you posting manually for Tailwind to accumulate enough data to understand your profile and your audience's typical behavior. However, once the app's created a baseline for your brand, it'll let you know at what times you're likely to get the most engagement for your Pins. You can then schedule your posts based on Tailwind's suggested times and days or create your own schedule.
Final thoughts
As you've probably come to understand, there are so many different factors that can influence the best time for a brand to post on Pinterest. It's therefore impossible to offer a quick solution to when your individual optimal Pinning time is. Furthermore, as we've learned with other social networks, such as the best time to post on YouTube, what's deemed to be your ideal posting time one day may not work as well for you just a few months down the road.
For this reason, it's important to keep an eye on your metrics and to not be afraid to test a new marketing strategy when needed. Your Pinterest engagement rate and overall performance on the social media platform will thank you!