Although relatively new to the social media universe compared to other platforms, TikTok's popularity has skyrocketed over the past few years. In fact, TikTok statistics show that from 2018 to 2021, the number of subscribers grew 400%!
Brands all over the world are now taking advantage of the social network to achieve all kinds of objectives—everything from boosting brand awareness and authority to creating a community.
Furthermore, a well-timed TikTok video can quickly go viral, often leading to an influx of new followers and, for businesses, an increase in site traffic and sales. While your content doesn't need to get millions of views for your brand to be successful, getting the timing right for your posts can really help to optimize your presence.
Whether you're just getting started on TikTok or want to take a closer look at your current posting strategy, keep reading to discover how to determine the best time to post on TikTok for your business!
Does it actually matter when you post on TikTok?
When you have a great video ready to share with your followers, the idea of posting it at a certain time may at first seem inconsequential. After all, the sooner you get this content out into the world, the better, right? 
Well, if your aim is simply to push as much content as possible, then sure, post whenever, wherever (cue Shakira). However, if your strategy for selling on TikTok entails getting more views and widening your reach, then, just like with any other social media network, it's a good idea to play to the algorithm. 
TikTok's algorithm looks at numerous factors, such as the amount of watch time, number of views, and amount of engagement, when determining which videos to show on a user's "For You" page (FYP). This page serves as a personalized feed for the user, featuring a collection of videos carefully curated by TikTok, based on what the network thinks the user will enjoy watching. 
Sharing content when there's a better chance of people watching it and therefore engaging with it makes it more likely that videos will appear on people's FYPs. Furthermore, by posting at the best time, you'll probably see more engagement, which can provide you with more insights as to what kinds of content your followers like best from you.
As you can see, posting videos at the right time is advantageous for maximizing your success on the network and expanding your brand's reach!
When is the best time to post on TikTok?
Okay, so now that you have a better understanding of why posting time matters on TikTok, you're probably wondering when you should post content to boost your chances of maximum engagement.
According to a study by Influencer Marketing Hub, in which more than 100,000 TikTok posts were examined for the highest engagement rates, the best overall global times to post are Tuesday at 9 a.m., Thursday at 12 a.m., and Friday at 5 a.m.
It's important to note that the above times are all in Eastern time (EST), which you'll need to consider when applying this information to your all own TikTok strategy. For instance, if you're located in Dublin, Ireland (and that's also where the majority of your target audience is located), the best times for you to post, based on the data in the aforementioned study, would be Tuesday at 2 p.m., Thursday at 5 a.m., and Friday at 10 a.m.
Don't worry, though…you certainly aren't limited to sharing your amazing videos with the world on these days and at these specific hours! 
The Influencer Marketing Hub study found the optimal posting times for each day of the week to be the following (again, all in EST):
Monday:

6 a.m., 10 a.m., and 10 p.m.

Tuesday:

2 a.m., 4 a.m., and 9 a.m.

Wednesday:

7 a.m., 8 a.m., and 11 p.m.

Thursday:

9 a.m., 12 a.m., and 7 p.m.

Friday:

5 a.m., 1 p.m., and 3 p.m.

Saturday:

11 a.m., 7 p.m., and 8 p.m.

Sunday:

7 a.m., 8 a.m., and 4 p.m.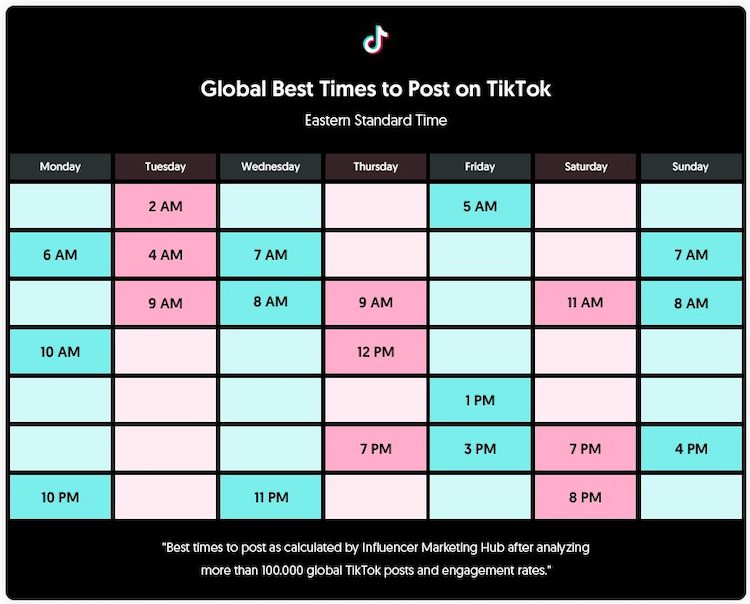 Source: Influencer Marketing Hub
While this information offers a decent start for determining your unique best posting strategy on TikTok, there are a variety of other factors that you'll need to consider to optimize your performance. Continue reading to learn how to get a more personalized window of what the best posting times look like for you! 
How to find the best time to post on TikTok for your business
When choosing a social media platform, keep in mind that a successful marketing strategy looks different for every business. What works for Brand A may prove to be disastrous for Brand B!
This is true for everything from the platforms on which you choose to have a presence to the kinds of content that you share, posting frequency, and, of course, best times to post. Whether you're trying to determine the best time to post on YouTube, the best time to post on Facebook, or the best time to post on Instagram, the optimal strategy can vary widely across different locations and industries.
For this reason, it's difficult to provide a step-by-step plan concerning posting times that will guarantee you success on TikTok (or any other social network for that matter). Nevertheless, there are a few tips we can suggest to get you on the right track.
Know your target audience
No different from any other channel you choose to incorporate into your marketing strategy, it's essential that you have a thorough understanding of the people you're hoping to reach on TikTok. For this, it can be helpful to return to the buyer persona(s) you likely created when launching your ecommerce business and determine how their characteristics and habits relate to their TikTok usage.
Think about what a day in the life of your ideal customer looks like. What time are they likely to wake up in the morning? What are their typical working hours? When do they usually have downtime throughout the day? When are they most social? What are their interests and hobbies?
By taking a look at your target audience's lifestyle, you can more easily identify when your TikTok posts are most likely to earn more views and engagement from them. 
If you're hoping to appeal to office workers, for instance, you might have the most luck posting early in the morning so that the platform has time to collect data and have the video appear to users around 7 or 8 a.m. when they're getting ready for work. Other opportune periods for this audience may be posting so that videos will show up for them at lunchtime or later on in the evening after they've come home from work. 
In contrast, if your target audience consists of college students, early-morning posting may be less effective. It's quite possible that these users would have more downtime to check social media in the late afternoon between classes and in the evening.
Although this strategy won't tell you exactly when you should post on TikTok, it can give you a good idea of when your audience will presumably be active. In addition, it can aid you in deciding what kinds of content will appeal to them most and therefore boost your engagement rate. 
Review your TikTok analytics
Similar to other social networks, TikTok supplies users with in-app analytics that can assist in seeing how well their account is doing and better inform their decisions regarding how to increase their success on the network.
Remember that although these analytics can aid in comprehending your content's performance, it's not a good idea to post new videos based on this information alone. When it comes to TikTok analytics, it's best to prioritize the bigger picture and think of this data as a beneficial insight instead of strict instructions. 
1. Opt for a Pro account
In order to access your TikTok analytics, you'll first need to switch to a Pro account if you don't already have one. This option offers you even more visibility concerning the performance of your videos and is very helpful for optimizing your presence on the channel.
Fortunately, it's easy and free to make this change!
Simply go to "Settings and Privacy" on your profile page and then choose "Manage Account." From there, click on "Switch to Pro Account." After this account is activated, you'll be able to view your analytics as well as have access to additional features.
2. Head to your analytics dashboard
You're now ready to access your account's analytics! Go to your profile, click on the three dots in the top right of your screen, select "Creator Tools," and pick "Analytics."
Note that TikTok analytics are divided into three categories, each offering various insights regarding your account on the platform.
Here, you'll be able to discover your video and profile views, follower count, and engagement metrics such as likes, comments, and shares, all within a certain period of time. TikTok allows you to view this information from the past 7, 28, or 60 days, and you can also opt to select a custom date range less than or equal to 60 days. 
With this info, you'll be able to better see what times your content is most frequently viewed along with when it gets the greatest amount of engagement.
The Content tab offers a more in-depth look into each video that you share on TikTok. By clicking here, you can obtain helpful data concerning the total number of views, comments, shares, average watch time, percentage of viewers who watch a video in its entirety, traffic source, and audience territories.
Similar to the Overview tab, this info is very useful for discovering your optimal posting hours, based on maximizing views and engagement. Keep in mind, however, that the above metrics are only available for the previous 7 days!
Finally, the Followers tab allows for a better understanding of your audience on TikTok. Helpful insights here include where your followers are from, when your audience is most active, and a comparison of follower growth change in terms of the previous window of time. This tab allows you to view metrics for both a 7-day and a 28-day period.
With this closer look at your followers and their behaviors on the network, you can more easily ascertain how to schedule your posts to best match their actions.
Check out your competitors
If you're new to TikTok and don't have loads of data to go on, it can be advantageous to take a peek at the competition to see when they're posting. Do a bit of research to find out what accounts are popular with your target audience, and learn when they tend to post their TikTok videos. 
If these accounts have been around for a while, they probably have a decent strategy in place and understand what times work best to reach the people they're targeting. This can also give you a bit of extra insight as to what types of content are most in demand with the users you're hoping to attract to your online store. 
Of course, you'll want to avoid copying your competitors, but uncovering their posting habits can be an excellent place to begin for crafting your own TikTok strategy!  
Is it possible to post too often on TikTok?
In order for TikTok to start generating detailed analytics for your account, you'll need to have at least 100 followers. For this reason, even if you aren't exactly sure of the best time to post for your business, it's important for you to start sharing high-quality content and posting consistently to help build your TikTok audience.
However, don't feel like you need to bombard users with dozens of videos every day.I
It is indeed possible to post too often on the platform. When you overwhelm people with content, it can cause your videos to have fewer views and less engagement, which would be a real shame after you've put in all the effort to create them!
TikTok's recommended strategy is to post 1 to 4 times a day, but remember to prioritize quality over quantity. If it's not possible for you to create and share authentic, engaging content every day, aim for a few times a week—just be sure to be consistent. 
Once you begin to have analytics appear for your account, you'll be able to more easily narrow down what times and days bring you the most success on TikTok. Remember, though, that the best timing for your posts is something that you'll want to continue to evaluate. Things can change rapidly when it comes to social media, and by keeping an eye on your metrics, you can better determine when you need to modify your strategy!