With Instagram's ever-changing algorithm, it can be difficult to know exactly what you need to do to optimize your presence on the platform at any given moment. Nevertheless, it's clear today that engagement is a crucial factor for getting your posts to appear at the top of your followers' feeds.
If your brand is dealing with low engagement rates, including low numbers of likes, comments, and shares, it's possible that you may not be posting at the ideal time to reach your particular audience. Imagine spending lots of time and effort on creating high-quality content, but because the members of your target market aren't active when you post, they never get to see it!
Never fear—we're dedicated to helping you remedy this issue that plagues marketers regardless of industry, all over the world. In this article, we'll delve into the all-important question of Instagram-post timing to get your amazing content the views and engagement that it deserves!
What is the best time to post on Instagram?
There's actually been quite a bit of research done to try to determine the best time to post on various social networks such as Facebook, Twitter, Instagram, etc. 
Many brands, especially when first getting started, may wonder if their ideal posting times would occur, for instance, in the morning or at night, also questioning whether they should post on weekdays or perhaps prioritize Saturday and Sunday.
Unfortunately, there's no one-size-fits-all answer to this question, as there are far too many variables that can affect why one brand is more successful at posting at a specific time than another brand.
Nevertheless, the insights that follow are designed to guide you in figuring out when you should share content on Instagram to boost your engagement, attract new followers, and get more visitors to your site!
Global best time to post on Instagram
As an increasing number of companies begin to go global with their businesses, it becomes more important for marketers to consider their strategies from an international perspective. 
Although what might work in one country may not work in another, it's advantageous to consider global behaviors and review Instagram statistics and data from around the world for everything from trying to find the best hashtags to deciding when to post on the social network. 
In a study conducted by Sprout Social examining the global engagement rate for Instagram users, researchers found that the ideal time to post on Instagram to enjoy the highest engagement is Tuesday between 11 a.m. and 2 p.m. CST as well as weekdays between 11 a.m. and 12 p.m. CST. 
Keep in mind that this optimal time frame isn't the same for every time zone. If you're based in London, for instance, the best time to post on Tuesday would generally be 5 p.m.–8 p.m., as this equates to 11 a.m.–2 p.m. CST.
In the Sprout Social chart below, you can discover the "hotspots" in even more detail when it comes to Instagram posting times for a global audience.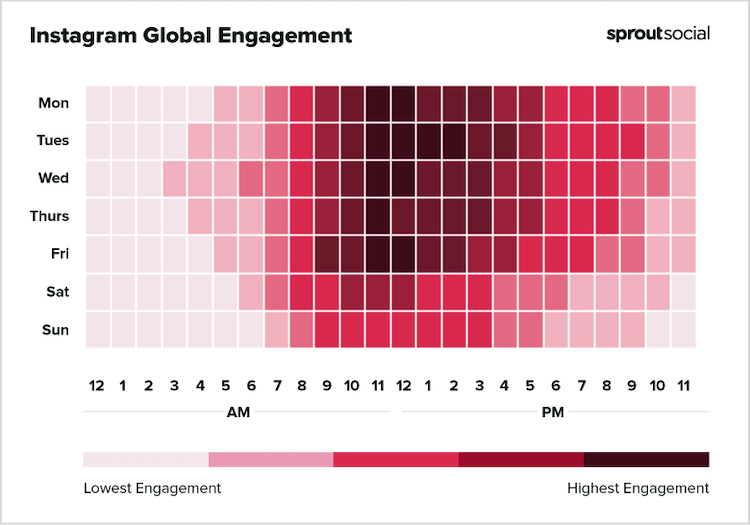 Source: Sprout Social
Note that while this chart offers an overview of Instagram global engagement, your brand's ideal posting time will likely depend on several other factors, which we'll examine a bit later in this article. 
Best time to post on Instagram based on day of the week
As the chart above indicates, the amount of engagement you get for your Instagram posts can easily vary for different days of the week, even if you post at the same time each day. 
Although the best time to post content on Instagram may be Tuesday between 11 a.m. and 2 p.m. CST, according to Sprout Social's data, you're certainly not limited to posting on this day and this time frame alone! 
Based on your brand's marketing strategy and goals, you might very well aim to share content multiple days a week or even multiple times a day. The following list provides a more in-depth breakdown of best posting times (all in the CST time zone), based on day of the week.
Monday, Wednesday, and Friday:

As mentioned earlier, it's generally best to post

11 a.m.–12 p.m

. However, you should still have decent engagement when posting any time 9 a.m.–5 p.m. To take advantage of the short window for optimal posting, when many people may be on their lunch breaks, aim for content that's easy for your audience to engage with and share with their own followers.

Tuesday:

This day offers a slightly larger range of best times to post on Instagram at

11 a.m.–2 p.m.

, but similar to above, the window of 9 a.m.–5 p.m. is generally good for engagement. Since you have more time for optimal posting on Tuesdays, this can be a great opportunity to go live on Instagram or share content like IGTV videos.

Thursday:

For the highest engagement this day of the week, try to post at around

11 a.m.

Despite the shorter time frame, you can still be quite successful with reaching your audience with Instagram content that allows for fast responses, e.g., Stories featuring polls, questions, etc. However, again, sharing content 9 a.m.–5 p.m. can still provide good results.

Saturday:

Though engagement is usually not as high on the weekend as the weekdays, your best bet when posting on Saturday is to do so

10 a.m.–12 p.m

.

Sunday:

This is generally considered the worst day of the week to post on Instagram in terms of engagement, but

9 a.m.–3 p.m

. is when you're likely to be the most successful. 
Tips for finding the best time to post on Instagram for your business
Take advantage of Instagram Insights
If you don't already have a business account on Instagram for your brand, you're missing out on several important benefits that could help take your social media marketing to the next level! 
Not only does a business account tend to look more professional, with this account type, you can avail of Instagram advertising, schedule your posts ahead of time, tag products in your posts, and use Insights, the network's native analytics tool.
Instagram Analytics allows you to discover very helpful information pertaining to your audience demographics, such as top locations, age range, gender, and, most relevant for the purposes of this article, when your audience is the most active.
By determining the times your followers are the most active, you can adapt your posting schedule accordingly to encourage more views and engagement.
Consider your buyer personas
Buyer personas are detailed descriptions of fictional characters who embody members of your target market. When creating your buyer personas, you'll perform extensive research to determine a variety of demographics for your ideal customer, including age, lifestyle, education level, career, interests, family, etc.
Identifying your buyer persona(s) is a critical step in launching a new business, as it helps you to decide everything from what products you're going to sell to what kinds of content to include on your blog. It also allows you to better determine when is the best time to post on social media networks like Instagram!
For example, if the majority of your target audience are third-shift workers, the "best times" to post on Instagram mentioned earlier in this article probably won't be a good match for your brand. You'll need to adjust your posting schedule accordingly to account for different sleeping hours and break times.
It's also a good idea to take your buyer personas' time zone(s) into consideration regarding when you post. If your target audience is mainly in France, for instance, the best posting times for Europe would be more relevant than those for a global audience. 
In addition, you can research Instagram-specific data for your buyer personas to help you determine the following:
t

heir reasons for using Instagram,

amount of time they spend on the platform,

what other accounts they follow (competing brands,

Instagram influencers

, etc.)

times/days they're more apt to engage rather than simply scroll, and

how often they open the app per day.
Track your best times manually with a spreadsheet
If your ecommerce business is new to Instagram and doesn't yet have a ton of followers, you might decide that tracking your engagement manually may work best for you. 
Using an Excel spreadsheet or Google Sheets, for example, you can add the times that you post during the week. Then, note how many likes, comments, and shares your content gets for each posting time. 
Note that this practice could become difficult to keep up with as time goes by and you begin to build up a significant following, especially if you're the only one handling your social media marketing. Nevertheless, it can be a good way to start out to see in detail what's happening with your Instagram account in terms of engagement and when.
Understand the Instagram algorithm
Whether it's for Google or a social network like Instagram, comprehending how an algorithm works can be tricky. However, once you have a better understanding of how an algorithm functions, you'll be able to more easily improve your performance on the platform.
Fortunately for Instagram users, the social network released an update in June 2021, which offered an explanation of how its algorithm operates. Based on this report, we now know that when it comes to determining what to show in your Feed and Stories posts, Instagram combines the recent posts of the accounts that you follow and ranks them based on a significant number of signals. 
Ranking factors, starting with the most important, include the following:
Post data:

This includes information that signals a post's popularity, such as number of likes, and more ordinary details, such as where the content was posted, what time it was posted, the length of the post (for videos), etc. 

Poster data:

The network uses information such as the number of interactions the account that created the post received from other users to learn how relevant the account may be to you.

Your activity:

Instagram looks at signals including the number of posts you've liked to comprehend your interests.

Your interaction history:

To determine your level of interest in viewing posts from a specific account, Instagram checks certain data such as if you comment on the other account's posts and vice versa.
Furthermore, the announcement mentions that the interactions that Instagrams reviews most closely are how likely a user is to spend a few seconds on a post, comment on it, like it, save it, and tap on the profile photo. 
This strongly indicates that engagement is a crucial factor that influences a post's likelihood of being shown to other users, which is something that you'll want to consider when deciding when to share content on Instagram!
Find out when your competitors post
While Sprout Social's data supplies guidance as to when to post for a global audience, the best times to post on Instagram can actually vary widely depending on the industry and even within a particular industry. If you're feeling overwhelmed as to how to determine your business's best posting times, it can be helpful to check out your competitors' content on Instagram.
Take a look at a handful of competing brands and find out when they post, also noting which posts earn the most engagement for those businesses. Although you might not opt to use their exact strategies for your own Instagram efforts, this step can help lead you to the right direction. 
Keep in mind that many accounts begin sharing Instagram content between around 9 a.m. If you'd like to have a little less competition, you might consider posting earlier in the day, say 7:30 or 8 a.m. 
In addition, because brands often share content on the hour, posting just several minutes before or after (e.g., 10:58 a.m. rather than 11 a.m.) is another easy way to reduce competition for views!
Test different posting times
It's highly unlikely that you'll find the perfect posting times for your brand on Instagram right away.
Trial and error is very common when it comes to any social media strategy. If you're struggling to find what works best for you, don't give up!
Continue to experiment with different posting schedules until you're able to determine which times consistently bring you positive results. Once you believe that you've found the best time for your audience, test it multiple times to ensure that it wasn't just a fortuitous one-off! 
Prioritize high engagement
As determined from the article detailing the Instagram algorithm update mentioned earlier, creating high-quality, engaging content is more important than stressing over the best posting time when it comes to optimizing your performance on the platform.
If you recall, the top interactions evaluated by Instagram for feed placement are how likely a user is to spend a few seconds on a post, comment on it, like it, save it, and tap on the profile photo. Consider reviewing your current practices to see how you might be able to increase these interactions and improve your overall engagement rate.
For instance, to encourage people to spend more time on a post, add an eye-catching visual, a compelling caption, and an interesting carousel or video. If your aim is to get more comments on a post, asking questions in the post can generate excellent results.
Want more likes? Ensure that your posts are helpful to your followers and/or offer another type of benefit, such as visual appeal, uniqueness, or humor. For a higher number of saves, it's essential that your posts contain useful information that people will want to reference later, e.g., tips, how-tos, and tutorials.
Finally, to encourage people to tap on your profile photo, mention the phrase "link in bio" in your post (making sure that you do in fact have a relevant link in your bio) and use a visually appealing photo.
Take your content into account
As you've probably come to understand through your business's marketing efforts, high-quality content is a must for any brand. Whether it's the content you post in your newsletter, on your blog, or on various social networks, quality trumps quantity every time. Instagram is no different!
However, besides prioritizing Instagram post ideas with high-quality content, you'll also want to consider the type of content you're sharing when deciding when to post it. 
Different content-related factors to think about when you're figuring out the best posting time include the following.
Product, service, idea, or action that you're promoting:

Are users more inclined to use or do this during certain hours or days?

Objective of your post:

What do you hope to accomplish? Boost brand awareness? Increase traffic to your online store? Educate your followers?

At what times or days will your audience see the post as most helpful:

People may be less likely to appreciate, for example, content involving cocktail recipes at 7 a.m. than 4 or 5 p.m. when they're getting ready to head to Happy Hour.
Start boosting your Instagram performance today
A top-notch social media marketing strategy will no doubt include a presence on Instagram. In order to increase your chances of achieving success and reaching your individual goals, it's important to consider the timing of your posts carefully. Spontaneity has its place in marketing but is generally best avoided when it comes to businesses posting on social media networks!
The fact remains, though, that despite all the different studies done and articles written, it's impossible to say for certain what your brand's best hours and days to post on Instagram will be. 
However, by taking a look at your target audience, your competitors' posting habits, the types of content you want to share, what you wish to accomplish with your Instagram account, etc., you'll soon be able to better determine the right posting schedule for you.
Once you've obtained some helpful insights as to when your brand should be sharing content on the platform, be sure to show up consistently for your audience. Scheduling your content ahead of time is an excellent way to stay on track with the timing of your posts.
By being consistent with the timing of your posts, your followers will get in the habit of seeing you appear in their feed. This in turn can help to build not just brand awareness but trust. Then, because you're sharing useful, compelling content, they'll be more apt to engage with your account in the form of likes, comments, and shares.
And remember, more engagement = a stronger relationship with your audience plus more authenticity in the eyes of Instagram!  
Finally, continue to monitor your results and adapt your strategy as needed. The best time for you to post on Instagram today may very well change in the future.