Artificial intelligence is the big technological trend of the moment. And if you haven't seen the news yet, a few weeks ago at WiziShop, we unveiled a complete AI text generation tool within the administration area!
Based on the GPT-3 language model with fine tuning, the team has worked for years to feed this artificial intelligence and adapt it to the needs of e-merchants and SEO.
This technology is a real revolution in many fields of activity, and digital marketing is one of them. Web actors are increasingly using artificial intelligence to help them in their daily work.
So, how does AI fit into the various SEO tasks? What are the benefits and limitations of these tools for SEO? Here are some answers!
Artificial intelligence at the heart of search engines
It's a surprise to no one. For a few years now, artificial intelligence has been omnipresent in the algorithms of search engines, such as Google.
With the release of RankBrain, for example, artificial intelligence has allowed significant evolutions in terms of understanding searches and relevance of results.
And this is just one example of the presence of artificial intelligence in search engines!
In our SEO strategies, we therefore try to adapt to please this artificial intelligence that governs the results in search engines.
Logically, artificial intelligence is gradually interfering in some SEO strategies ... and this isn't a big surprise given the many benefits!
Text generation via AI
This is currently the most common use of artificial intelligence in the SEO sphere.
Since the release of many AI tools such as Jasper, Semji, Copy.ai, and many others, a real fervor has been created around content generation, one of the many examples of artificial intelligence available to us. This is quite understandable when you consider the investment required to write the various texts on a site... Especially in ecommerce!
Managing content within the product catalog and blog is a task that brings excellent results but is also very time consuming.
Since the different texts of the product pages, categories, and articles can be generated automatically via artificial intelligence, we quickly get caught up in the game! Especially since these tools have improved considerably over time and the results today are quite impressive.
Advantages of artificial intelligence for SEO
The various advantages of artificial intelligence for SEO are actually indirect. It's not the AI that will allow you to better position your site in search engines but rather the use that you'll make of it.
Time
Although writers may be very qualified, they'll never write as fast as artificial intelligence. For some tools, a few seconds are enough to generate texts of 800 to 1,000 words.
This is one of the main reasons why users generate their text via AI tools: saving time. Between researching topics, writing content and publishing, an average person can easily spend between 3 and 4 hours, at least.
This need is even more obvious in ecommerce.
For example, if you have a catalog of several hundred products with a description for each product page, the generation with artificial intelligence allows you to fill the pages much faster.
Inspiration
Everyone has experienced blank page syndrome at some point, even the best writers!
I'll use the example of ecommerce again, but on products of the same category with variations of materials, sizes, or colors, it can happen that the lack of ideas is felt.
Artificial intelligence will never lack inspiration!
Faced with this situation, some e-merchants will also copy and paste the content of each product description by changing only the variation or the color in the text. This creates duplicate content within the site. A practice that will slow down your SEO.
Budget
Whether it's managed internally, within your company, or externally via a service provider, copywriting requires an investment in time and money.
The price of a text-generation tool via AI is particularly accessible. Between 5 and 99 dollars per month on average, depending on the number of texts you generate. This saves you time and money, allowing you to allocate your budget to other levers.
Please note that I'm not saying that artificial intelligence replaces your writers, but if they use it efficiently, they'll save time and therefore money.
Sales
Saving time means improving your production.
Using artificial intelligence to generate text allows you to create and publish many more pages on your site in a shorter period of time.
By publishing more quality pages, targeting specific search intents on your site, you'll rank for many more keywords.
This will ultimately help you attract more traffic to your site and generate more sales!
Limits of artificial intelligence for SEO
Apart from the benefits of artificial intelligence for SEO, there are some limitations to its use. But you'll see that ultimately, it's a matter of use and good practices.
Spam
For several years now, Google has been fighting against low-quality content.
The "Spam Update," which ended in October 2022, confirms the will of the search engine to fight this type of content.
According to a communication from Google, content generated by GPT-3 type algorithms can be considered as spam. And there too, beware of nuances ... Just go to the dedicated page, to the "Spammy automatically-generated content" part to understand them.
The examples highlight elements such as "text that makes no sense to the reader," "text without human review," etc.
So with very heavy use of an AI text generator, without any human proofreading to check the relevance of the texts, there's a chance that your pages will be considered spam.
But if you use the AI tool to make your first draft of text and human proofreading is added to improve AI content creation, it'll be totally undetectable and therefore not penalized.
Content quality
Artificial intelligence, although it's becoming increasingly efficient and relevant, remains a robot. It'll always be in the background, behind human intelligence. Which is a good thing, otherwise the job of web copywriter would likely disappear...
To write, artificial intelligence feeds on what currently exists on the web. The generated content can therefore lack originality and personalization. The writing is quite neutral.
Sometimes, the AI will even pick up misinformation or integrate prejudicial opinions.
In contrast, a person who writes a text will put forward their knowledge, their personal experience, will draw deductions on some information, have critical sense... Within the text, humans will have their own style of writing and will share emotions and feelings.
As you can see, for a site with real branding and a brand image to maintain, the proofreading stage is mandatory for checking the texts and adapting them to your objectives. However, the first draft via AI allows you to save a considerable amount of time.
Content that converts
Closely linked to the quality of content, for certain types of pages such as sales pages, artificial intelligence isn't adapted. These texts must be worked on with particular attention because the objective is ultimately conversion.
Therefore, AI is rather intended for simple content such as product descriptions, category descriptions, and blog posts, always with proofreading!
Recent topics
Finally, one of the limitations of AI-generated content is in relation to hot topics and news.
Since AI is inspired by existing content, if the topic you want to talk about is very recent or there is little content on the subject, the tool will have some difficulties generating texts.
It's also not very comfortable with religion, politics, and adult themes.
How to use AI tools in SEO
To illustrate the usage tips, I'll use images from our AI tool, available on the WiziShop ecommerce solution.
1. Conduct keyword research
For SEO purposes, the first step before generating your texts via AI is to perform your keyword research.
It's during this analysis that you'll highlight the phrases, terms, and questions that your potential customers type in search engines.
2. Guide the AI for better results
Once you've found your target keyword, all you have to do is launch your AI tool.
My advice here is to work gradually, guiding the AI as much as possible in each production step. The more you improve the indications of the brief, the better the final result will be.
In general, there are several steps to complete when generating a text.
For example, on WiziShop, with the blog article generator, the first step is to indicate the target keyword. Then, the tool proposes several different topics.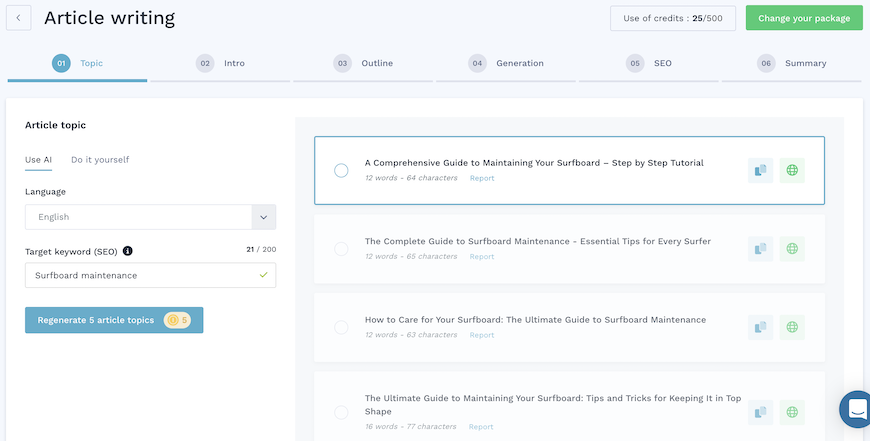 Select the one that seems most relevant and, if necessary, modify it before moving on to the next step of the introduction.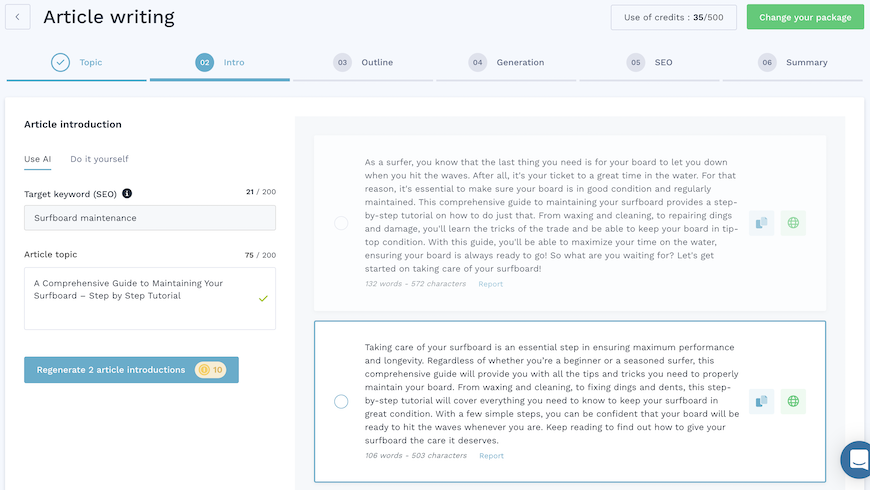 With the subject of the article, the AI will then generate five introductions. Same instructions: choose your favorite version and modify it if necessary.
In order to guide the artificial intelligence in writing the content, several article outlines are proposed.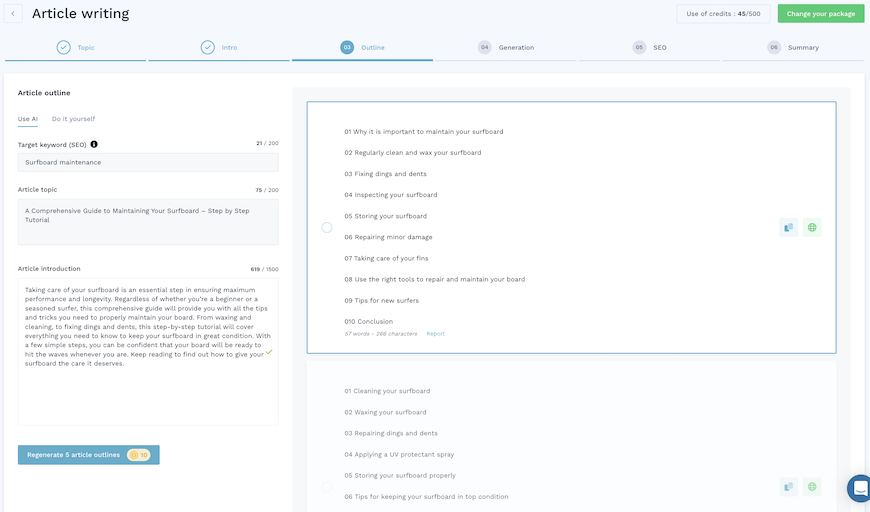 In the next step, the AI works and generates the complete article in just a few seconds!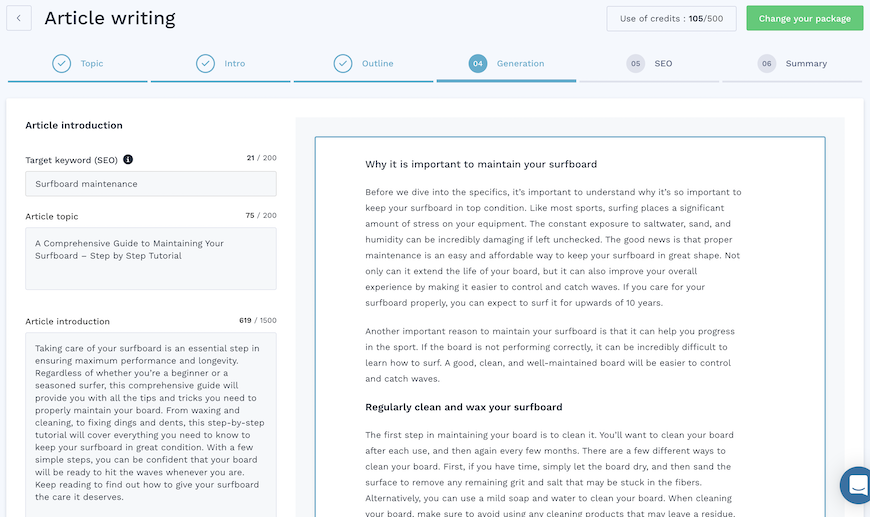 Finally, you also have the possibility to generate your different title and meta description tags.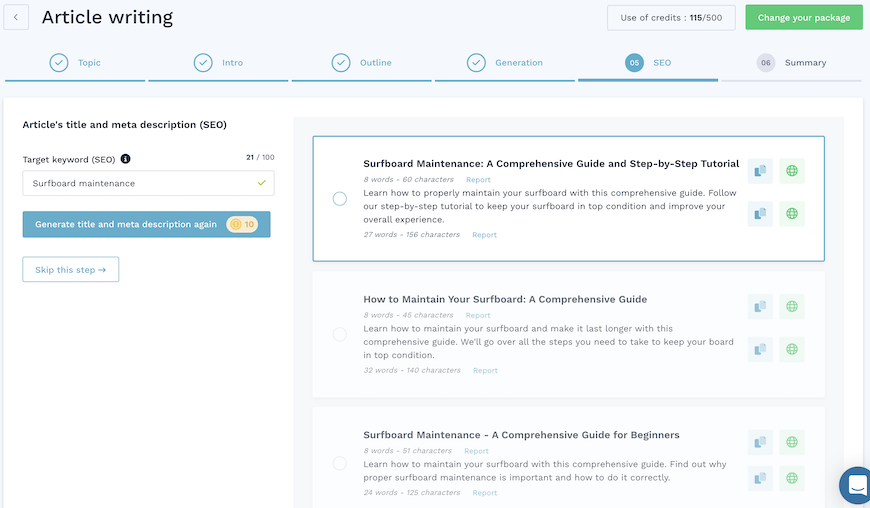 3. Proofread the final result
Once your text is generated, next comes the proofreading stage. This is where you need to edit the content, add your thoughts and writing style. This is essential to add emotion and make the text as relevant as possible.
To complete your SEO, you can also use tools like YourTextGuru.
If you're a WiziShop customer, 20 tokens will be offered when you create a new YourTextGuru account. Go to the SEO section of your WiziShop account and then "SEO Partners and tools" to get your promo code!
4. Publish your content!
Finally, all you have to do is publish your AI-generated content on your website and wait for it to rank in the search engine results.
As a website owner, you'll have understood that the question is not so much whether you should use artificial intelligence to generate your texts but rather how to use it. With these best practices and a few tips, AI is no longer a mystery for you.
Go to your administration area to test our tool and give us your feedback!
Create your online store - 15-day free trial