It's a good start to have a website that you can send to your contacts, but the main interest is going to be to use it to attract new customers.
So if you're in the process of creating your online store and you're now looking to list it on the Google search engine, this article is for you!
This crucial action allows your website to be found by people who are looking for your brand name and to rank for many keywords related to your business.
People who don't know you can then come across your site and who knows, maybe become loyal customers!
This is what makes the difference between "being listed" and "being WELL listed."
What does "being listed" mean?
When you've just created a website, it'll be online and accessible from the address bar. This doesn't mean that it's listed.
"Being listed" in a search engine like Google means that people can find it when they search for your brand or terms related to your business.

Why list your website on Google?
The Google search engine is the most used in the world. According to Statcounter, it represents more than 92% of the market share.

In some countries such as Russia or China, Google is overtaken by search engines such as Yandex and Baidu, but if your online store targets most other countries around the world, there's no question!
It should also be noted that when you're listed on Google, your website will usually also be listed on other search engines.
What is SEO?
To be well listed, you must implement an SEO strategy.
Search engine optimization (SEO) is defined by the different techniques that allow you to position your website efficiently in the results of search engines such as Google.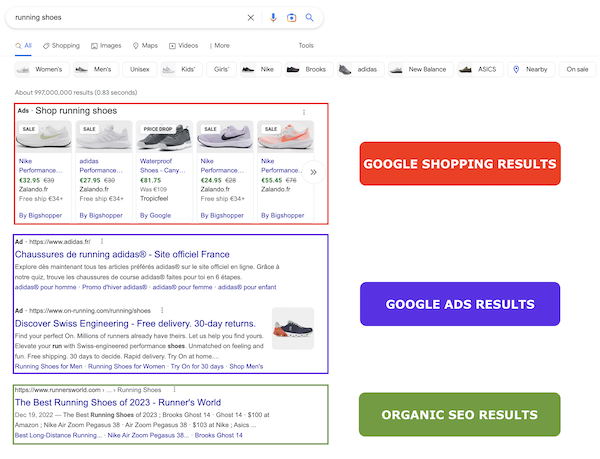 In this example, the user who types "running shoes" is going to discover several results: Google Shopping, Google Ads, and organic results.
If you want to be properly listed, these are the first organic results that you'll aim for with your website.
Steps to submit your site to Google and get listed on the search engine
Let's get to the heart of the matter! What are the steps to submit your website to Google and get listed on the search engine?
Prerequisites to be correctly listed
First of all, if your online store is not yet online, I advise you to make sure that it respects the best practices.
Google is going to discover your website for the first time, so you might as well take advantage of it to make sure that this first instance is perfect!
To do this, you must verify that the various technical elements of your website are optimized: robots.txt file, sitemap, loading speed, structured data, pagination, etc.
If you're on the WiziShop ecommerce solution, everything is technically optimized for SEO. So even if these terms don't mean anything to you, don't worry!
If you want to find out more, I invite you to take a look at our complete article on the subject: https://wizishop.com/blog/ecommerce-seo.
Then, you have to apply the best practices for the structure of your website and your content.
By this I mean to work on the menu, the internal linking, the relevance of the pages to the search intent, the different SEO tags (title, meta description, Hn structure), the images, etc.
Step 1: Put your site online
Now that your website is properly optimized for search engines, you'll move on to putting it online.
During the creation, most solutions place your site "under construction." It's therefore necessary to make your different pages accessible to everyone.
To make sure that your website is online, view it in private browsing.
Step 2: Connect your site to Search Console
Google Search Console is an excellent ally to follow your SEO and audit the health of your website.
This part isn't mandatory but highly recommended to help you rank your site on Google.
The tool will allow you to declare to Google that this website belongs to you but also to accelerate its crawling and indexation.
Because yes, to be listed, your website must be indexed.
This indexation is possible thanks to the crawling of your site by search engine robots. When they come across URLs, they add them to a listing (index) and then visit and index them.
Here are the steps to declare your website in Search Console:
1. Sign in to your Google Search Console account (or create an account with Google if you don't already have one)
2. Associate your store with your Google account. In the type of property to validate, select "URL Prefix" and fill in the URL of your store.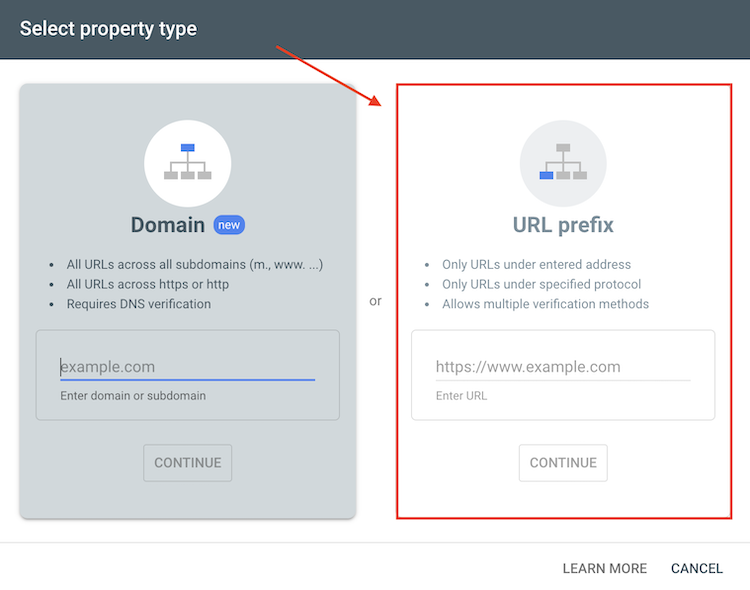 Once your domain name is pasted in Search Console, you'll be offered different validation methods. Choose the one that suits you best.
If you're on WiziShop, this tutorial dedicated to the validation of the property will help you.
3. Check that everything is working properly. Once you've clicked on the "Validate" button, your site should now be associated with your Google account. Note that some data processing time is required. It'll take a few days before you can see the reports.
Step 3: Add the sitemap file
If you've applied the right optimizations indicated above in the article, you should have a sitemap file.
As a rule, it's located after your domain name, at the address "/sitemap.xml" or "/sitemap_index.xml"; it'll depend on your CMS.
The next part of the process is to declare it to Google Search Console. This is going to facilitate the reading of your website for search engine robots.
1. Select your site
2. Click on the "Sitemaps" tab
3. Enter the URL of your sitemap in the appropriate field and click on the "Submit" button.

Your sitemap file is now sent! It'll be analyzed by the Google robots.
How do you check if your site is listed on Google?
Did you launch your website a few weeks ago and want to know if it's listed on Google? Here are some tips to help you.
1. Check if the website is indexed
The first verification will be to make sure that it's indexed.
The most popular method is simply to go on Google and type the following request by replacing "example.com" by your site:
"site:example.com"
Verify that you've indicated the right site. The "site:https://example.com" operator displays different results than "site:https://www.example.com" operator.
If you use the "site:" operator to analyze the indexing of specific URLs, be aware that it doesn't necessarily return all the indexed URLs. The results displayed aren't exhaustive.
You can find more information here.
Have you just done the "site:" command and no result is returned in Google? There's a good chance that your site is not listed. There are several reasons for this:
First of all, you should know that today, patience is required.
Google takes more time than before to crawl/index pages and therefore to list them.
If you've just launched your site, it's normal that some pages aren't indexed or that it's not yet listed.
Has your site been online for several weeks now? In this case, other factors may come into play.
Google may encounter problems with the crawling of your site.
There are several possibilities: is your site accessible in private browsing? Does the technology used to build your site respect web standards? Are your pages accessible from mobile devices? Do your pages respond well with a 200 code? Does the robots.txt file not block crawling? Do noindex tags not prevent indexing?
You must meet all the conditions to facilitate the reading of your site by Google's robots.
Search engines like Google are more and more intransigent on the quality of your site and the content proposed.
There are billions of sites on the web and billions of pages that may already answer the query you are targeting. Why should Google rank your site over another?
For each URL, your priority should be quality. For each of your texts, you must provide real added value and offer the best possible user experience.
You can also go to your Search Console, to the "Pages" tab of the "Indexing" report. In this Google Search Console coverage report, you'll be able to visualize the pages of your site that Google has detected, crawled, and indexed as well as the possible problems encountered.
2. Check the listing
The second check will be to analyze the listing of your site by focusing on your keywords in the Google Search Console tool.
It's the analysis of your ranking keywords that'll determine if you're listed, and especially if you're "well listed."
The "Search results" report in the "Performance" tab will provide you with all the information you need to analyze your rankings and your listing.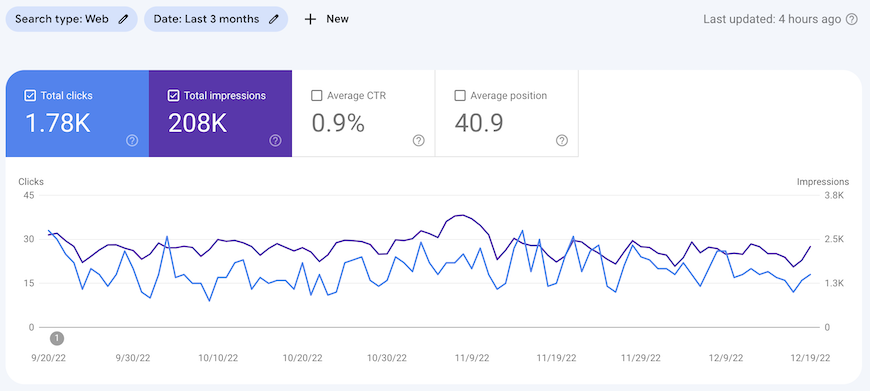 From the interface, you can analyze the keywords for which your site is ranking, the number of impressions and clicks, the average position, the pages that are positioned, and many other things!
You can also use dedicated tools. This article presents 10 tools for checking rankings on Google.
Depending on the results you see, you'll have to apply optimizations on your site to try to get a better ranking.
Regular work to obtain a better ranking
Finally, once your online store is listed, you'll have to work on your SEO regularly to boost Google's confidence in your site so that it propels you to the best results.
To be effective, you must regularly study the keywords related to your theme, frequently add relevant content to your site (products, blog, shopping guides, etc.), work on the popularity of your brand by trying to convince other sites to talk about you, and monitor the health of your site.
All these optimizations require detailed explanations.
To help you perform in your SEO strategy in the long term, you can consult our dedicated SEO category.