If you're interested in SEO, you've probably already heard about the SEO audit. This crucial step allows you to thoroughly analyze your website's strategy to identify its strengths and weaknesses.
The main goal is to find actionable improvements and opportunities to improve the visibility and ranking of your site in search engines.
An SEO audit can take several factors into account, such as the technical structure of the site, the tree structure, the content of the pages, the popularity, and increasingly, the user experience. After all, the goal is to increase sales and revenue.
Performing an SEO audit can often seem complex. The site owner may not necessarily know how to do it or where to start. In this guide, I'll share the key steps to perform an audit and give you some tips to make concrete and actionable improvements.
What an SEO audit is: Definition
Before we begin, let's ensure that we have a good foundation... Do you know what an audit is in the broadest sense of the term? It's a professional appraisal that can be found in many fields of activity.
For example, audits are often performed in the financial or accounting sector, in the energy sector, in communication and digital marketing, or even simply in business.
The audit makes it possible to do complete and advanced analyses of specific elements. The auditor will analyze and control a whole set of points in order to bring out improvements.
In SEO, audits are very useful and are often carried out by agencies or consultants to ensure an impartial eye.
They consist of dissecting the whole of a website to check to see what issues exist and determine lists of actions to be implemented in order to improve the SEO in search engines.
Why do an SEO audit of your website?
An SEO audit of a website often takes some time, but believe me, if it's done correctly, it's sure to bring you many benefits.
Identify the obstacles
When you've been working on a website for years, sometimes there are issues that are right in front of your eyes that are holding back your SEO strategy.
With an audit, you can take a step back from your business to identify these roadblocks.
The detailed analysis allows you to list the various items that need to be optimized and, most importantly, to highlight the actions that need to be taken to correct them.
Identify the opportunities
It's very likely that your site is full of opportunities of all kinds to considerably improve your SEO traffic with some light optimizations.
But then again, you're focused on your business and don't necessarily take the time to discover them.
Sometimes they're simply keywords to add to your main tags or internal links to add to strategic pages to get you directly in the top 3. The audit allows you to highlight all of these SEO opportunities.
Take stock of the current situation
The SEO audit is the ideal opportunity to find out if your website is optimized.
It allows you to analyze the existing site in its entirety so that you can start from a strong foundation. Are you targeting the right Google keywords? Is the internal linking of your site clear? Does your site load quickly?...
The objective of an SEO audit is not only to detect possible technical and structural issues. It's also an opportunity to check if visitors can easily and quickly access your website.
The SEO audit is part of a more comprehensive methodology that is the digital marketing audit.
Have a long-term vision of your SEO strategy
In SEO, it can sometimes be complicated on a daily basis to know which strategies to adopt, which actions to take, or which page to optimize.
Depending on the results of the audit, you'll be able to come up with a course of action to improve your SEO. It's rare that the improvement of the various points can be realized in a few days, unless your site is already perfectly optimized.
Following the analysis, you'll have a list of elements to work on over several months or even years.
Keep up with the times
Search engines evolve, and your SEO strategy must follow the trends to perform well.
Performing an audit is an essential asset for your SEO since it will allow you to update your site and your content according to Google's recommendations.
You should also know that an audit should be performed regularly to follow your evolution on Google and thus ensure good results over time.
Learn more about the competition
Competitive analysis is an essential step in marketing.
During the execution of an SEO audit, a part is often dedicated to the analysis of the competition. This allows you to know and analyze the strategies: keywords positioned, types of content created, tree structure of the site, backlinks, etc.
The more information you have about your competitors' techniques, the better you can approach your market.
And even if you already know them, this analysis is still beneficial. Most of them don't rest on their laurels and work on their SEO on a daily basis. Competitive research allows you to stay on top of your market and adapt.
Tools to help you do your audit
Many tools can help you with your SEO audit: crawlers, inbound link analyzers, visibility tools... There are many of them on the web, sometimes free, sometimes paid. Use them wisely!
The execution of an audit can be done without tools and in a completely manual way, but they will allow you to have more in-depth analyses and, above all, to save time.
Below, discover a selection of the main tools used to perform SEO audits.
Google's tools
First of all, Search Console is a free tool from Google that you shouldn't toss aside!
Very complete, it allows you to track the results of your SEO strategy and monitor the health of your site.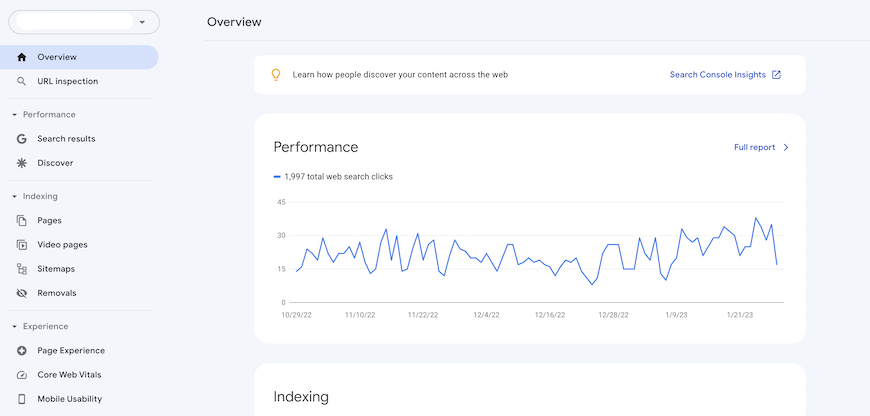 Through this online tool, you can get valuable information about your visibility: indexing coverage, traffic from Google, queries, links pointing to your site, technical issues, loading time, etc.
In addition, Google Analytics can also provide you with crucial data for your business.
With a few clicks, you can analyze where your traffic comes from, the behavior of internet users, the origin of traffic, the time spent on different web pages, the number of clicks, etc.
Finally, PageSpeed Insights analyzes the loading speed of your pages.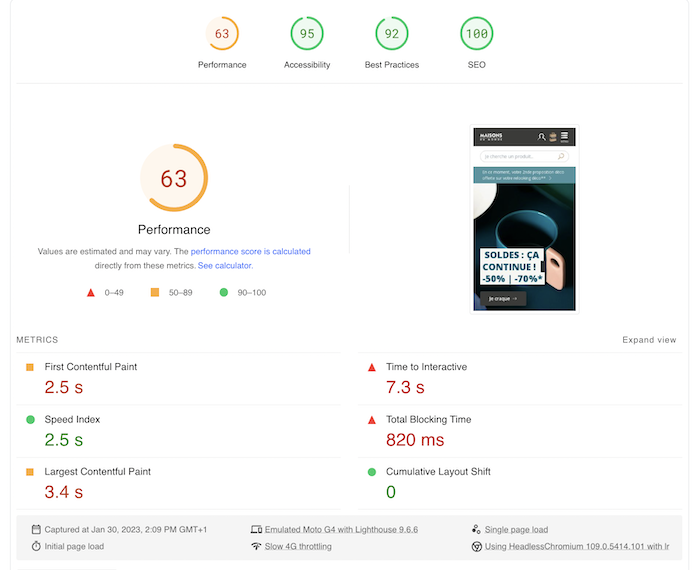 It gives you a score from 1 to 100, on computer and mobile. Recommendations are shared with you to optimize the loading time of your site.
Seolyzer
The realization of a complete SEO tool requires the use of a crawler.
Crawlers are tools that allow you to launch a robot on your site to explore all the URLs it encounters and to obtain a detailed technical and content analysis.
One of the popular tools we partner with is Seolyzer. It offers a free version that can analyze 5,000 URLs.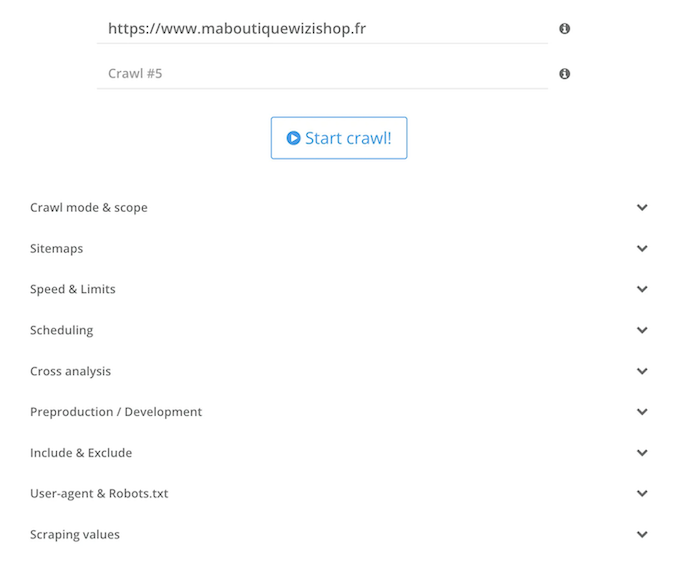 This tool allows you to go even further with log study and cross analysis.
If you want, you can also test other crawlers like Screaming Frog. This feature is also present in several more complete SEO tools like Semrush or Ahrefs.
YourTextGuru
Content is a very important factor in search engine rankings these days.
YourTextGuru is a French SEO tool and partner of WiziShop that allows you to analyze the textual optimization score of your different pages.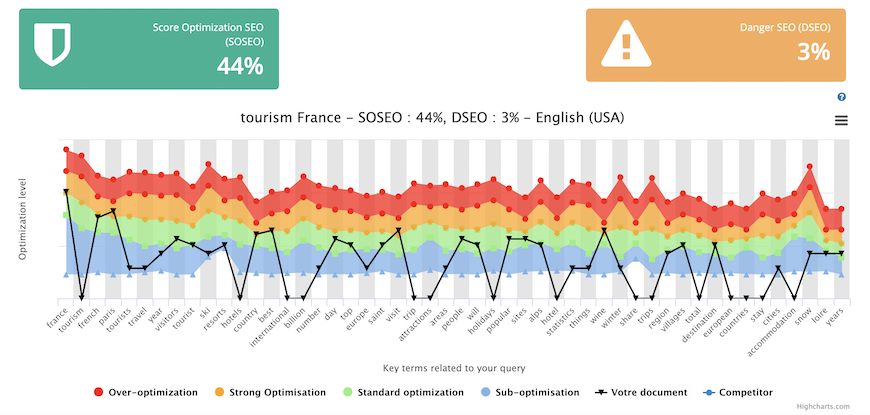 It'll also analyze the semantic score of the first 10 results positioned to define your tactics and editorial strategies to adopt against the competition.
As a WiziShop e-merchant, you can find a promo code directly in your administration area to get 20 free tokens for the tool!
Semrush
The complete SEO tool par excellence!
Semrush is the Swiss Army knife of SEO. It's even the reference for digital marketing tools.
Very complete, this online software offers you features to analyze your website traffic, positioned keywords, backlinks, competition, etc.
It also includes a site audit tool that allows you to launch a crawler and analyze a hundred indicators. Once the crawl is completed, the tool will provide you with a detailed report that will allow you to see the roadblocks on your site.
Thanks to WiziShop, you can benefit from a 14-day free trial of Semrush.
Steps of a successful SEO audit
Performing a complete SEO audit involves analyzing different parts of the site.
It's an inventory of all the criteria that are present on your site but also outside of it. It concerns the technical aspects, the content, the keywords, the architecture of your site, the backlinks, etc.
In general, I advise you to start with the on-site study and finish with the off-site.
1. Competition audit
During the first step, it'll be helpful to know and identify the actors of your market. Even if you already know them, updating your information can only be beneficial!
You'll therefore list your main competitors and study the structure of their site, the keywords on which they're positioned or the number of referring domains they have. This will help you move forward and evolve in order to be even more efficient.
To help you gather this data, you can use tools like Semrush or Ubersuggest.

2. Positioning audit
Once you know your competition, you must now analyze your visibility on the web.
To check your positioning or ranking and know your different keywords, you can go to the "Performance" report in Google Search Console.
Google will tell you the keywords for which your site is listed, the number of impressions and clicks they generate, the pages that perform the best, and many other indicators.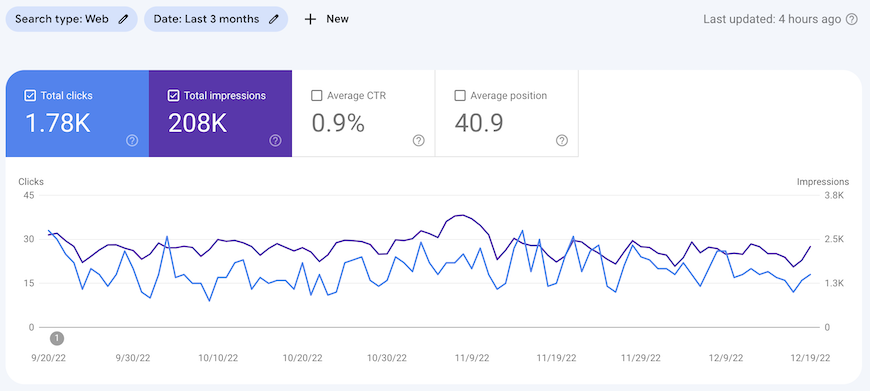 You can also use the tools mentioned above like Semrush or Ubersuggest to obtain valuable data regarding your positioning.

The interest of this analysis is first to check that the keywords that you're targeting are adapted to your activity. Then, the ranking for each keyword allows you to identify many opportunities for pages to improve.
3. Technical audit
The third step of the audit consists of performing a technical audit of your site. Here are some key points to analyze:
D

omain name configuration ("www" version, without "www," https, http)

URL configuration (without "/" or with "/")

HTTP codes of the pages (such as

301 redirects

or those for 2xx, 4xx, 5xx)

Sitemap

file

Robots.txt

file

Site speed

Site security

Canonical management

Pagination management

Sorting filter/facet management

Structured data

Breadcrumb trail

Adaptability of pages to different media
It's during this phase that I advise you to turn to the use of a crawl tool like Seolyzer, Screaming Frog, or Semrush. You will save a considerable amount of time and will find errors that you wouldn't necessarily discover with the naked eye.
In addition, the Google Search Console tool will also provide you with information.
This list isn't exhaustive, but it contains the main technical elements that can block your SEO progress.
If you are a beginner in SEO, these terms may seem completely foreign to you, and this is normal!
That's why on the WiziShop ecommerce solution, the technical leverage of online stores is our priority.
We natively manage the optimization of most of these criteria so that e-merchants can benefit from a technically sound foundation and not have to deal with this complex part. You can find all our configurations in this article.
Create your online store - 15-day free trial
4. Indexing audit
Closely related to the technical part, the indexing of your pages is a key element to the success of your SEO. It's therefore important to analyze the SEO of your site's pages when you
submit your site to Google to get listed in the search engine's index.
To check if all the pages of your website are present in the Google index, you can type the query "site:mywebsite.com" in the search bar. Thanks to this command, you'll have a vision of the different indexed pages.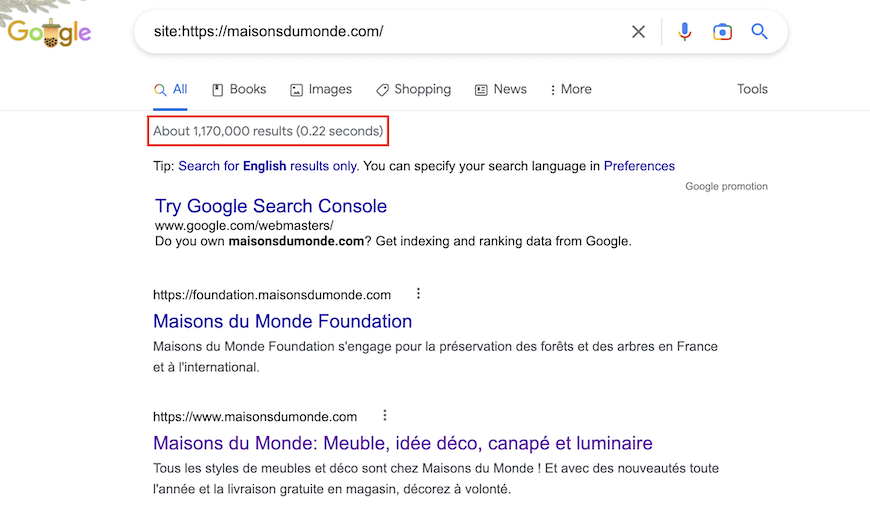 If you know your site, the range of results will give you an indication.
For example, if you have a 10-page website and you notice that several hundred pages are showing up in the index, there's a good chance that there's a problem with your site.
You can also turn to the indexing report available in Google Search Console. This guide on the coverage report should help you analyze it properly.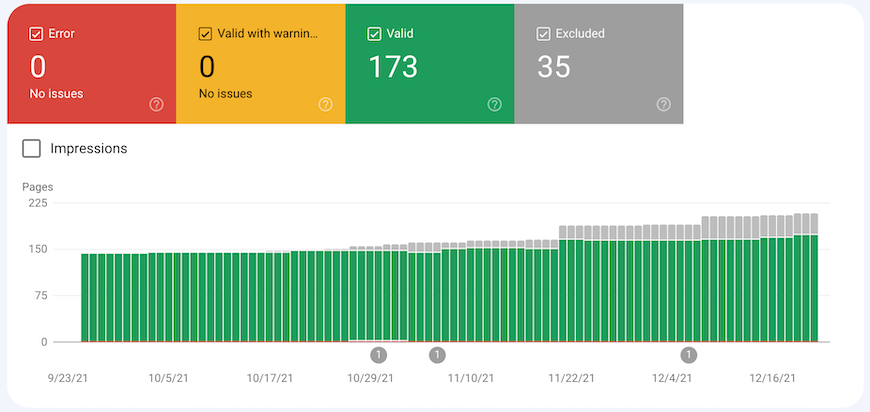 The question is: do all the results displayed correspond to all the pages of your website that you want to be listed on Google?
5. Content audit
The second step consists of analyzing each page of your website and verifying that they're well optimized.
Each page must be optimized for a particular subject, so that Google understands the theme and positions you effectively. You must also make sure that this topic is being searched for by web users. Otherwise, your page won't be able to attract organic traffic.
In connection with the previous advice, each page must be unique to avoid duplicate content but also self-competition. If you target the same keyword on several of your pages, you're cannibalizing your own work.
If you realize that you've made this mistake, keep the page that is best optimized and optimize the others for another keyword, for example.
For each piece of content, here are the different points to analyze:
T

itle tag

Meta description tag

Hn structure (H1, H2, H3,...)

Lexical field

Image optimization (alt attribute and weight)

Internal linking
For each element, you can find a dedicated article in our SEO category.
During your analysis, take the opportunity to put aside the pages with outdated content. The refreshing of content is very well seen by search engines as well as by web users.
In the same logic, when you study your pages and your site, check the elements that are important for your business.
Ask yourself if the page inspires confidence, if it correctly meets the expectations of your persona, or if the buying experience and conversions are optimal.
6. Off-site audit
The off-site analysis consists of analyzing the effectiveness of your link building strategy to estimate the power of your site, to ensure the consistency of your link profile and avoid Penguin penalties.
To help you, you can use the Google Search Console tool, specifically the "Links" tab. It provides you with a non-exhaustive list of the different links that point to your site.
To have a better vision of your link building, I advise you to use tools like Semrush, Seobserver, or Majestic SEO, which will allow you to have a global view of your backlinks.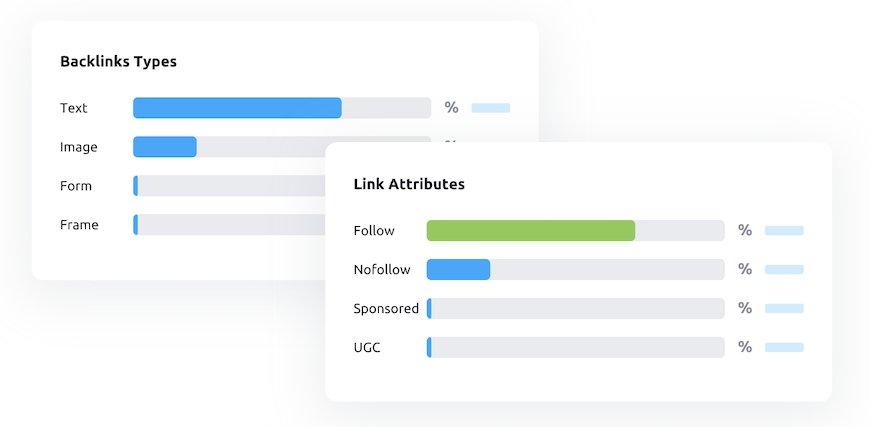 Once you've identified the various links pointing to your site, you need to ask yourself the right questions:
A

re the links relevant (theme, content,...)?

Does my link profile look natural (anchors, link placement,...)?

Do the links point to strategic pages of my site?

Etc.
Depending on the sector and theme, the sites must be particularly powerful to obtain good results. The cross-referencing of your results with those of your competitors on the web is therefore crucial to draw conclusions.
To help you answer these questions, retrieve the analysis of your competitors carried out during the first part of the audit and compare it with your link profile.
To conclude the different steps of the SEO audit, you must adapt your audit to your technical and human capacities.
Depending on the site, it's useless to create a file containing more than 100 pages of analysis. The risk is to never use the results... Focus first on the opportunities that, with just a little work, can significantly increase your visibility and your SEO.
When should you perform an SEO audit?
It's recommended to do an SEO audit when you launch your site to check to make sure that it's properly optimized. Search engines will be discovering your site for the first time, so you might as well make a good impression!
Then, you can perform an SEO audit as your site evolves: for example, if you do a migration or if you notice a strong drop in traffic and positioning.
Finally, it's also recommended to perform an SEO audit on a regular basis, once a year. This will allow you to take a step back from your site, to update yourself on the competition, and you'll always find some improvements to make.
Is it necessary to contact an agency to perform an SEO audit?
You can perform an SEO audit with your own resources, but it's always advisable to call upon an expert.
An audit includes many technical details and requires a keen understanding of SEO and search engines.
An SEO agency or consultant will be able to point out key opportunities and improvements for your website's visibility that you may not see during your analysis.
At WiziShop, we have SEO partners who are real experts and can advise you. Don't hesitate to contact us!
The SEO audit is a key step in the implementation of your SEO strategy. You've also seen in this guide that it goes far beyond the simple analysis of traffic and keywords. A comprehensive audit allows you to learn more about the competition, identify technical bottlenecks, and improve the user experience.
By performing an SEO audit, you can ensure that your site is properly optimized for search engines, and, most importantly, you'll have the best chance of growing your business and succeeding online!
Frequently asked questions
How do you perform an SEO audit?
To perform an SEO audit, you need to focus on the analysis of the three levers of a website: technical aspects, content, and popularity. In order to identify opportunities and have an effective SEO audit, it's important to follow a precise checklist of elements to be analyzed to avoid leaving with a file that's too complex and not usable. The final objective is to have a list of improvements adapted to the technical and human possibilities of the company, classified by order of priority and importance.
What is the price of an SEO audit?
The price of an SEO audit varies greatly. It depends on the company that performs it and especially on the size of your website. It can range between 400 dollars and several thousand dollars.